It's really got to admit that WhatsApp is the revolutionary cross platform messenger of 21st century. However, as the huge amount of people use it worldwide, a few of them may sometimes have the problem of message recovery due to mistakenly deletion of their chats. Yes guys I also felt this issue yesterday and solved it out very easily.
Yesterday, I also deleted the WhatsApp Chat conversation of one of my friend intentionally (not accidentally) due to some foolish arguments but I forgot that he also sent me some useful web links to check and that's why I had to restore that conversation. So, I think you also may sometimes have some reasons to restore your deleted WhatsApp messages and therefore I'm sharing how I restored my WhatsApp messages easily so that you can also do the same.
Read: Is It Possible to Logout WhatsApp in Android
So, first of all I wanna tell you that WhatsApp automatically makes the backup of your chats every night (commonly at 4:00 AM) and stores them in the WhatsApp > Databases folder located in your device. But, still you can't restore the back normally, in fact you will have to uninstall and reinstall the WhatsApp messenger in your device and then only you can restore the backup.
How to Restore Delete WhatsApp Messages Easily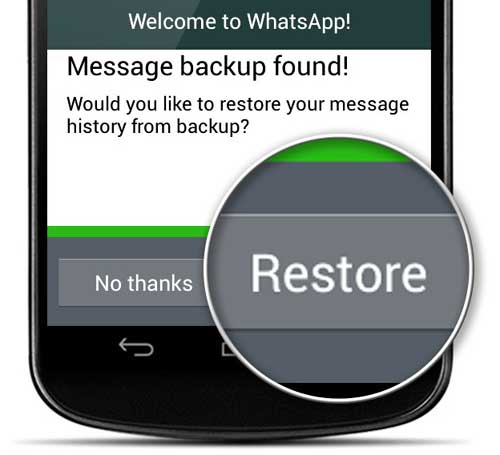 As I told you that WhatsApp restored that backup of your chat conversation everyday in your device and the only reason to restore them is uninstalling and reinstalling the WhatsApp, so I'm going to tell you that how can you restore the last created backup to restore the messages you deleted (intentionally or unintentionally).
Warning: Here is a warning for you I think you should be aware of that before applying the changes. If you restore the last backup created by WhatsApp, all the chat conversations or messages you sent or received after that backup will be lost.
Simple steps for restoring current backup of your WhatsApp Chats are following:
First of all, uninstall the WhatsApp messenger from your device. For Android phones, navigate to Settings > Applications > WhatsApp > Uninstall. and for Windows Phone long press on the icon, and select uninstall.
Now, reboot your phone and reinstall the WhatsApp messenger from the relevant app store.
If you have installed WhatsApp on your phone before, WhatsApp may prompt you "Would you like to restore your message history from backup?" Choose Restore (for Windows Phone choose YES) if you would like to restore your deleted messages as of the current backup.
That's all, after applying these steps and restoring the backup you should see the your deleted chat messages in WhatsApp.
But, remember that by using the above procedure you can restore the last night backup only, and can't restore messages deleted before last two, three or more days. So, what if you wanna restore the old backup of your WhatsApp messages? You can restore them too. 🙂
Read Also: Best WhatsApp Alternatives that will Make You Forget it
Yes friends, WhatsApp keeps up to 7 days worth backup files in your device so there is also a way to restore any of these older backups.
Recover Older WhatsApp Messages Deleted Mistakenly
Here's how you can recover your deleted WhatsApp messages if they are older up to 7 days. May be this trick will work only for Android users.
Warning: Any new messages sent/received after a backup, and deleted before the next backup, cannot be restored. It means, for example if you restore the backup of 4 days ago, all the messages sent and received after that backup taken will not be restored.
Here's the steps for restoring older WhatsApp messages deleted by you:
Go to your mobile phone's file manager and navigate to WhatsApp > Databases.
Here you should pay a little attention that in the Databases folder, last 7 days backup along with the latest backup is restored and usually WhatsApp restores the latest backup (as of the above procedure). And the latest backup is saved as "msgstore.db.crypt7" or "msgstore.db.crypt8" and other older backups are saved as msgstore-YYYY-MM-DD.1.db.crypt7 or "msgstore-YYYY-MM-DD.1.db.crypt8".
So, all you need to do is rename your current backup to "msgstore.db.crypt7.current" or "msgstore.db.crypt8.current" so that WhatsApp won't consider it as a latest backup to restore and simultaneously rename any of the older backup (that you wanna restore) to the name of your latest backup i.e, "msgstore.db.crypt7" or "msgstore.db.crypt8" (depending on your file extension).
Finally, perform the same Uninstall – Reinstall procedure to restore backup as mentioned above and WhatsApp will restore that older backup you renamed as current backup. 🙂
I tried my best to present this bit confusing work as easier as possible but still if you're feeling any problem at any point of movement, instant get back me via comments so that I can solve out your issue.