If Windows detects possible problems with your computer's memory, it will prompt you to run the Memory Diagnostics Tool. It generally works in Windows 7. It just scans your memory for errors and helps you diagnose the memory problems.
But, in case you highly require Windows Memory Diagnostic Tool and it is not opening automatically, then still you can run this tool manually. However, Windows recommends you to let this tool open automatically.
Run Windows Memory Diagnostic Tool Manually
Now, learn how you can run Windows Memory Diagnostic Tool manually without waiting for it. Here're the simple and to the point steps provided to open this tool anytime you need. Have a look on the following steps:
STEP 1: To open Memory Diagnostic Tool, click on Start button and then click on Control Panel.
STEP 2: Now, type "Memory" in the search box and then click on Diagnose your computer's memory problems.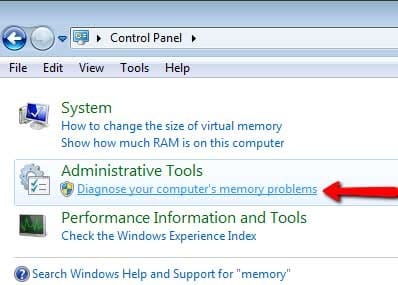 STEP 3: Now, it may ask you to run this program as administrator for entering Admin password or confirmation. Do so and then you'll see the Windows Memory Diagnostic Tool.
Related Article: What are System Recovery Options in Windows 7
That's all, now you can select any of the tow options for memory diagnostic tool. It means restart now/diagnose problems now or next time when you open computer. I hope the guide will be helpful to you.