Your PC might be affected with a serious error and that's why you should know about each and every system recovery options. Do you know that Windows PC contains a system recovery options menu that contains set of tools to recover your PC? You can open this menu any time to recover your Windows 7 computer from any serious error.
This set of tools is in your computer's hard disk and in the Windows installation disc. In case if it is not available in your PC, you will have to format your computer and then open it while installing Windows.
System Recovery Options & Their Working
In this article, I will tell you about the each and every system recovery options that Windows provides you. What are these system recovery options and what does each system recovery tool work? Here's the answer of this question.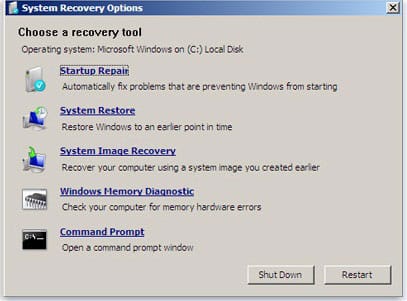 Check out the system recovery options available in Windows 7 computer to recover PC from critical issues:
1. Startup Repair
Startup Repair is a Windows recovery tool that can fix certain system problems that might prevent Windows from starting. Startup Repair scans your computer for the problem and then tries to fix it so your computer can start correctly.
Startup Repair is one of the recovery tools in the System Recovery Options menu. This set of tools is located on your computer's hard disk and on the Windows installation disc.
2. System Restore
System Restore helps you restore your computer's system files to an earlier point in time. It's a way to undo system changes to your computer without affecting your personal files, such as email, documents, or photos.
If you use System Restore from the System Recovery Options menu, you cannot undo the restore operation. However, you can run System Restore again and choose a different restore point, if one exists.
3. System Image Recovery
A system image is an exact copy of a drive. When you restore your computer from a system image, it's a complete restoration—you can't choose individual items to restore, and all of your current programs, system settings, and files are replaced with the contents of the system image.
4. Windows Memory Diagnostic Tool
If Windows detects possible problems with your computer's memory, it will prompt you to run the Memory Diagnostics Tool. It generally works in Windows 7. So, it just scans your memory for errors and helps you diagnosing the memory problems.
5. Command Prompt
Everybody knows about Command Prompt but you must know the commands to use command prompt. Generally, advanced users can use Command Prompt to perform recovery-related operations and also run other command line tools for diagnosing and troubleshooting problems.
More Useful Posts:
Conclusion
All of these are the system recovery options in Windows operating system. If you want to fix any error, you can manually open this system recovery options menu in Windows. If the whole PC is hanged and you can't open it, then you can format it again and at the time of Windows installation, you can open this menu. Some of these recovery tools open automatically, otherwise you can also open each recovery tool individually in your PC when needed.