Many people might be receiving email notifications from Facebook such as somebody commented on your photo, someone sent you friend request or anything else. So, if you're being disturbed from these emails from Facebook, you can turn it off very easily.
But first of all, let me tell you there are three type of settings for receiving email notifications. You can check them out by navigating Settings > Notification > Email.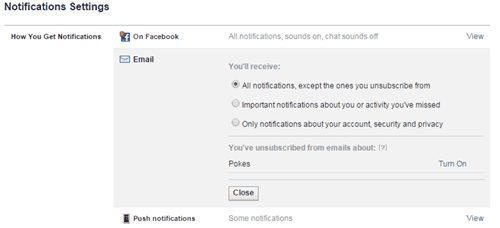 All notifications, except the ones you unsubscribe from
Important notifications about you or activity you've missed
Only notifications about your account, security and privacy
By default, you're subscribed for the first setting i.e, All notifications, except the ones you unsubscribed from. So, if you don't want to receive all notifications and only wanna receive important notifications about your activity you missed or notifications about your account security and privacy, then you can choose the appropriate setting from here so that only the selected notifications will be arrived in your inbox.
But, what if you don't wanna receive even single notification from Facebook on your email? It also have a solution and the simplest one. To turn off or stop receiving all the Facebook notifications on email, you can directly unsubscribe from your email and you don't even need to open Facebook to change any settings.
RECOMMENDED READING:
I mean to say, whenever you receive any email notification from Facebook, open it and click on Unsubscribe link at the bottom of the email, so that specific email will be turned off forever. Similarly, you can unsubscribe any specific email notification directly from email.
I hope it will be helpful for you to get rid of the problem of receiving unwanted emails in your inbox.