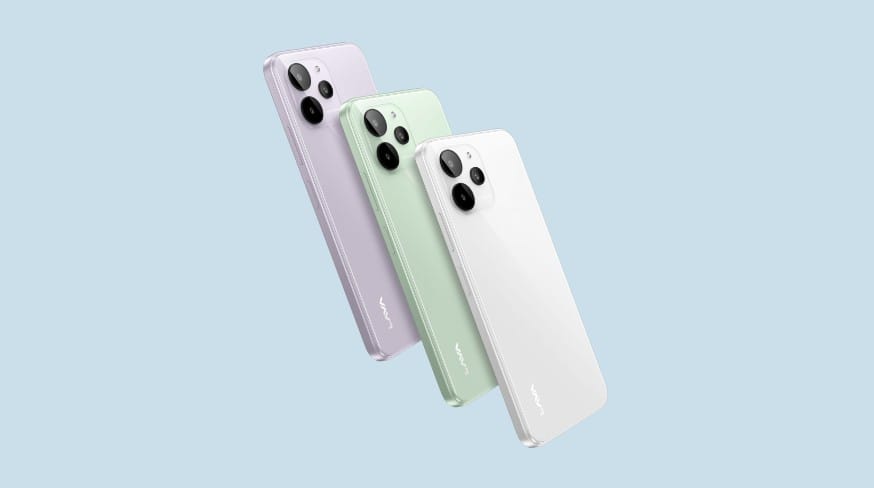 The Indian smartphone brand, Lava, launches an iPhone-lookalike Android smartphone, Lava Yuva 2 Pro. It will be an entry-level smartphone with commendable features, including a MediaTek Helio G37 chipset, 13MP camera, 6.5 HD display, and many more. Continue reading the article will let you know about the Lava Yuva 2 Pro Features, Price, and availability.
Along with its entry-level price, the feature that attracted everyone is its iPhone-lookalike design. The brand-new Lava Yuva 2 Pro looks very similar to iPhone 11 Pro Max. Strategically, by giving the phone an iPhone look, the company targeted a separate customer base who wants to buy a smartphone like iPhone but can't afford it.
Features of Lava Yuva 2 Pro
Let's see if the iPhone-lookalike Lava Yuva 2 Pro meets the expectations and needs of customers who are willing to buy this after seeing looks. The further sections in the article are about Lava Yuva 2 Pro's battery, camera, display, storage, charger, etc.
Design
As we talked about earlier, the highlighted and unique feature of Lava Yuva 2 Pro is its iPhone 14 Pro design. Especially from its backside, it has the same camera housing with three camera lenses and one flashlight. Afterward, it has the same flat back glass panel with Lava badging on the left side. Moreover, its body has rounded and curved corners as same as the iPhone 11 Pro max.
On the front side, the smartphone has a centred punch-hole camera. Apart from that, it has volume rockers and a power button with an inbuilt fingerprint sensor on the left side. Two speakers, a charging port, and a headphone jack have been placed on the below side. The colour options are available in three colour variants; Glass White, Glass Green & Glass Lavender.
Performance
Talking about the performance features of Lava Yuva 2 Pro, it has a MediaTek Helio G37 Octa-core processor, 4GB + 3GB (virtual RAM), and 64GB (256GB Expandable) storage options. And the smartphone comes with the Android 12 operating system, which is claimed to have come with no ads and bloatware. Moreover, you will have a 5000 mAh powerful battery with a 10W charger.
Camera
The smartphone comes with a triple camera setup on the rear side; 13MP + VGA + VGA. It can record HD 1080P video and has some other features like Panorama, HDR, AI, Beauty, Night, Portrait, Pro, Slow Motion, etc. Alongside, the latest Lava set has a 5MP selfie camera that has an in-display flashlight.
Display
The Lava Yuva 2 Pro has a 6.55" HD+ Notch display with 720*1600 resolution. However, we didn't find a refresh rate noted on the smartphone.
Connectivity
Lava Yuva 2 Pro is a dual sim supported 4G smartphone with connectivity features like WiFi, Bluetooth 5.1, GPRS, Navigation, EDGE, GLONASS, etc. Along with these connectivity features, it also has:
Anonymous Auto call recording.
Face Unlock.
Side Fingerprint scanner.
12 Months Doubtnuts membership.
Price of Lava Yuva 2 Pro
The smartphone company launched the Lava Yuva 2 Pro at the price of 7,999 INR. This is the only price you can buy the Lava Yuva 2 Pro as there is only one variant available. This is the launching price. Maybe the company will increase the price to 9,999 INR, as the official website suggests.
Availability of Lava Yuva 2 Pro
As of now, the company doesn't list the smartphone on any marketplace to buy except its website. So, anywhere from India, you can order the Lava Yuva 2 Pro from its official website. Hopefully, the smartphone will be available on Amazon, Flipkart, and in offline stores soon.
How's the Lava Yuva 2 Pro? A Brief Review
At this price point, the Lava Yuva 2 Pro is a great smartphone to have if the features perform as mentioned. Although all the features are good, the 5000 mAh battery, side-mounted fingerprint sensor, and price itself are quite impressive. Along, the front and back camera sensors, processor, and expandable 4GB+3GB RAM are also quite features.
However, for some features, the Lava Yuva 2 Pro may disappoint you such as it doesn't support 5G in India. And also the display features are not that good. Its design looks like a premium smartphone but the weight of this smartphone is very high (204 grams) as compared to other smartphones in this price range.
And if you are impressed with its iPhone-lookalike design and thinking of buying it, you can go for it. As a verdict thoughts, if you are looking for an entry-level smartphone and your budget is around 7K to 8K, Lava Yuva 2 Pro can be a good choice for you.