[Published on: Dec 19, 2014] Yesterday I saw that a new WordPress version is available in my admin panel that is WordPress 4.1 and today I updated it. I really surprised to see the new and interesting features of this WordPress 4.1 update.
WordPress 4.1 will be proven a perfect version for those who don't wanna compromise with writing by focusing only on content without distracting mind on other things. In fact, this new WordPress version gives you a distraction free writing mode to have a great concentration on your writing without distracting mind by the surroundings.
Here's a screenshot of distraction free writing mode in WordPress version 4.1 –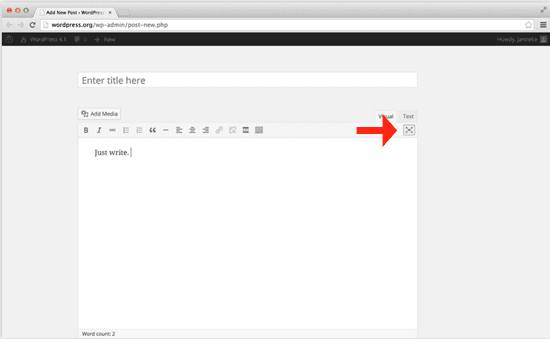 Sometimes, you just need to concentrate on putting your thoughts into words. Try turning on distraction-free writing mode. When you start typing, all the distractions will fade away, letting you focus solely on your writing. All your editing tools instantly return when you need them.
Moreover, other than this feature WordPress 4.1 version comes up with an extremely useful and a must have feature that many bloggers might be looking for, – Remote logout of WordPress in all other devices.
Yes guys, you heard right! Now, after updating your WordPress version to WordPress 4.1, you'll be able to logout your WordPress account remotely in other devices.
So, either you have ever forgot to sign out of your WordPress in a public computer or lost your smartphone with logged in WordPress access, fearlessly you can now sign out your of WordPress remotely from everywhere in just a click.
Just need to go to your profile and here you will find a button named "Log Out of All Other Sessions". As soon as you will click on this button, you will be logged out in all other devices excepting the current session.
Not only this, there are many more new features of this new WordPress update such as Choosing a language out of 44 different languages to work on site, Plugin recommendations by Plugin Installer and more.
RECOMMENDED TIPS:
So, I hope you're going to fall in love with this new version of WordPress 🙂