Do you know why it is necessary to have more than one administrator for your Facebook page? This is because, if your Facebook account is hacked or you lost your Facebook page login credentials, then still you can access your Facebook page using the other admin account. So, in such kind of conditions, having more than one admin for a Facebook page is very necessary.
If your Facebook page has thousands of likes and it is an official fan page of your well established business, it is must for you to keep more than one admin accounts connected with your Facebook page.
In some conditions, people don't wanna give admin rights to anybody else, so without giving admin rights, you can provide any other role (such as editor, moderator etc.) to the person you are connecting with your Facebook page so that if you would be unable to access your page for some reason, at least you will be able to post the new things or posts using the account of that person you connected with your page.
Must Read: Effective Ways to Increase Facebook Page Likes for Free
Here's How You Can Add More than One Admin to Your Facebook Page
Guys, here you will learn how to add any other people as your Facebook page admin, editor or moderator. So, first of all open Facebook and login to your Facebook account. After logging in open your Facebook Page as an Admin.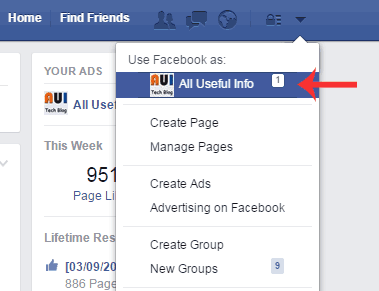 Now, go to your Facebook page settings by clicking on Settings button as shown in following picture.
In the Settings page, you will see an option for Page Roles. As soon as you will click on this Page Roles Option, you will be able to add a new person as your page admin. Just enter the email address of that person and select a role (Editor, Admin, Moderator etc.) you wanna give to that person. And finally save changes.
As soon as you will save the changes, the person will receive invitation to become an admin of your page. Once he/she accepts the invitation, he/she will also be able to manage your page according the the role you provided.
Anytime if you wanna remove any of the admin of your page, just click on the × (cross) button in front of the admin name and again save changes.
Read Also: 5 Must Know How Tos for Facebook Page Admins
I hope this guide will be proven very helpful for all those people who are not much familiar with Facebook and wanna have more than one admin for their Facebook page. Any questions or comments are always welcome! 🙂