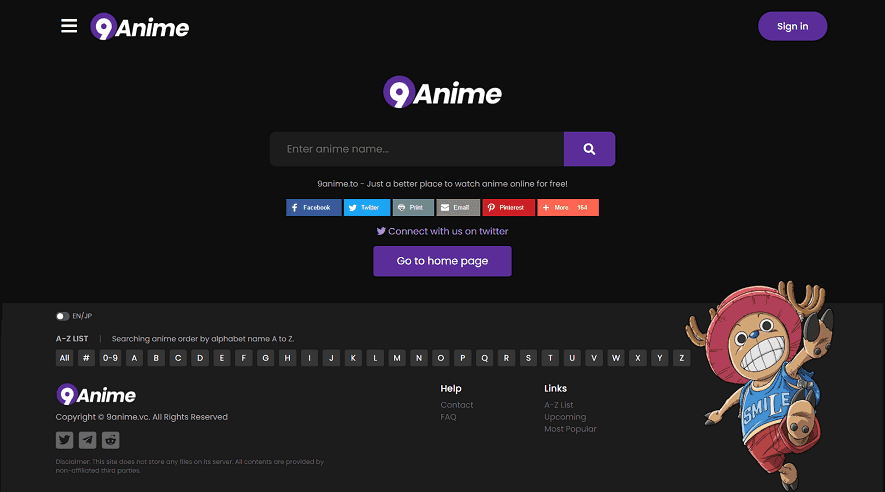 Anime used to be a niche market decades ago and those who watch it were called nerds. But things have changed, more and more people watch anime and consider it one of the best forms of entertainment. According to KissAnime, they had 162M visitors based on January 2018. And bear in mind that KissAnime is only one (a popular one though) among hundreds of anime sites, both free and premium.
Anime's popularity is rocketing and if you haven't watched any anime, check them out, we are sure you will not regret it. In this article, we will explain why people love watching anime as well as the real 9Anime site to watch anime safely, seamlessly, and freely.
Why Do People Love Watching Anime?
Unlike what many people think, anime is not for children only. In fact, there is something for everyone. You can watch anime for the mere purpose of entertainment. You can also watch it to have beautiful messages about friendship, family, teammates, magic, etc. Or you can also find even adult or truly dark and depraved content that is unsuitable for younger audiences.
Anime is for all ages and can fall under any category, including ones that you never imagine. If you are up for wild imagination, it is time to check out the anime world. And here are 10 reasons why millions of people around the world watch anime on a daily basis.
1. Compelling Characters
The main characters in anime series are diverse. They can be anyone or anything, be it ghosts, detectives, ghouls, pirates, demons, high school students, office workers, or any character you can think of. They might be different in personalities, but their own a level of badassery no other film can match.
2. Characters Have Flaws And Die
You rarely see a perfect character in an anime. They are like us, they have flaws, and they are not immune to death.
3. Anime Is Emotional and Relatable
Anime has stacked full of emotions. You might cry all day long with Grave of the Fireflies or laugh nonstop with Gintama. As anime is based on real-life situations, it is also relatable to our daily life.
4. Out-Of-This-World Storyline
Anything you can imagine can be found in anime. There are series about a universe where humans co-exist with any number of mythical creatures, or even journeys of a guy who eats a magical fruit and is trying to become the Pirate King. As said above, anime is all about imagination.
5. The Japanese Culture
If you love Japanese culture, watching anime is the best way to learn more about it. By doing so, you can get to know about commonly used phrases and colloquialisms, popular traditions, holidays and myths, and folklore of "The Land of the Rising Sun".
6. It's Rarely Cancelled
No one wants to invest time, and even money, into a long-running series only to see it canceled. But it won't be your problem if it's an anime series. It might take longer for a series to end, but you know that it will eventually end and you won't be left hanging.
7. Fan Service
Fan service is a big part of the industry and all of the biggest anime shows have it. It helps build a stronger bond between the fan and the series.
8. Amazing Action Sequences
No realistic movies or series can deliver the amazing action sequences we can see in anime. It makes sense as realistic films have their limits. And the visuals and music that go with it? It's on a whole other level.
9. It's Entertaining
Anime is a perfect combination of mind-blowing factors such as thought-provoking storylines, kick-ass action scenes, badass characters, etc. It keeps you sitting still for another, then another, episode.
10. It's Easy And Free To Stream
One of the biggest reasons why more and more people love anime is because it is extremely easy to access. You do not need to buy a DVD, or subscribe to a paid streaming service to get to watch anime. You can watch thousands of anime shows on a free and safe site.
What Is the Real 9Anime Website?
If you are tempted to check anime out, it is important to choose a safe and high-quality site to protect yourself from common Internet risks. 9Anime has been one of the fan favorites thanks to its extensive content library and excellent features.
Unfortunately, as the site rises in popularity, there are more and more fake sites claiming to be the real 9Anime website. However, they can fake the name, but never the quality.
We have checked all the sites with 9Anime in their domain names and found the real 9Anime site. 9Anime.vc is the one and only site that owns all the features that 9Anime has always been proud of.
– Extensive content library: 9Anime.vc hosts up to thousands of anime shows from all genres and subgenres, including niche ones such as harem, reverse harem, hentai, etc.
– HD Resolution: HD quality contributes to an enhanced watching experience. Why settle for less when you can watch your favorite anime in 720p?
– Seamless streaming experience: Thanks to the fast loading speed, ad-free feature, and seamless streaming feature, your streaming will not be interrupted by any lagging, buffering, redirects, or pop-ups.
– Daily database updates: New titles come to the site on a daily basis, including requested titles and random interesting anime. You won't need to wait for hours or even days for a new episode as they are added as soon as they come out officially.
– Friendly user interface: Using 9Anime.vc to watch anime is as easy as searching on Google. You only need to search for your title of interest using the search box or manually find something to watch by using the site's filter or viewing the full site for more suggestions.
– Mobile-friendly and Chromecast supported: The site's great device compatibility helps you continue watching your favorite anime wherever you go, whenever you have free time, and on whatever Internet-enabled device is available.
– Zero ads: There are no ads, pop-ups, or commercials on the site. With this feature, you are safe from viruses and malware.
– No account or registration needed: 9Anime.vc does not require any registration or sign-up. You can come to watch your favorite anime anytime and leave when you are finished. There are absolutely no strings attached.
– Best customer service: The 9Anime team is at our service 24/7 to assist us with any problems. If you have any inquiries or requests, feel free to contact them on Discord or other SNS platforms.