Audio plays the most important role in any kind video you're creating for your YouTube channel. It must be well recorded and clean to engage viewers with your video.
When I started creating videos for my YouTube channel, I realized audio is the biggest challenge. And the most difficult task in audio recording is dealing with background noise.
Almost, all kind of mics and audio recorders capture background noise. Some of the mics I checked for audio recording in my videos was horribly capturing background noise. Still, there are some mics that capture less noise such as Zoom H1 etc.
So, without worrying about microphone and the noise it captures, you should know the way to remove the background's hiss noise from audio in post editing.
There're some video and audio editing tools that lets you remove hissing noise from audio but one of the best and absolutely free tool for audio editing I recommend is Audacity.
How to Remove Hissing Noise From Audio Using Audacity?
Audacity is free and open source audio recording and editing software, available for Windows, Mac OS and Linux.
With Audacity, it's very easy to edit an audio and remove the hissing noise from the background. So, first of all download the Audacity in your computer and install it.

Once, it's installed in your PC, open it and go to File > Open and choose the audio file you want to edit to remove hissing noise.
After importing the audio file into Audacity interface, press Ctrl+A to select it and navigate to Effect > Noise Reduction.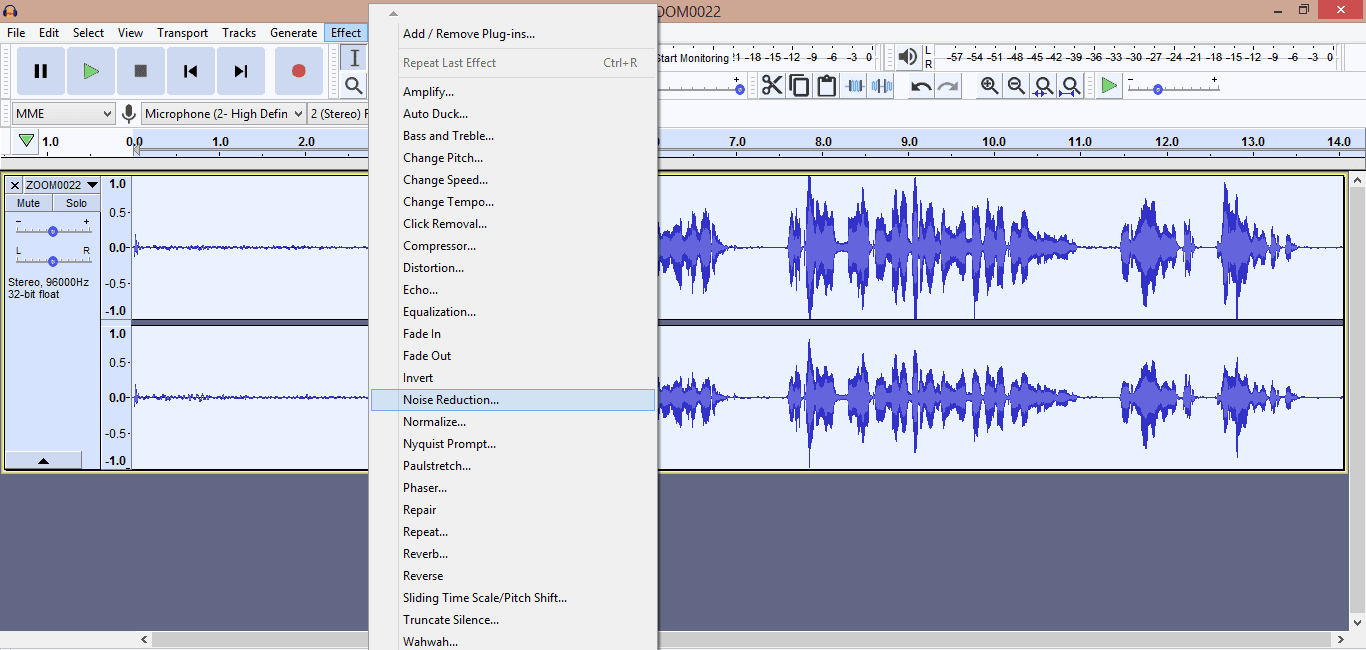 As soon as you'll click on Noise Reduction, a popup window will open and indicate two steps to reduce the noise of audio using Audacity tool.
In the very first step, you're required to get the noise profile. It means simply select a small portion of just noise so that Audacity can understand what to filter out.
So, simply click on Get Noise Profile button, choose a portion of hissing noise (blank portion without your voice), again navigate to Effects > Noise Reduction and once again click on Get Noise Profile button.
Now, as a second and last step, you need to select the whole audio (simply press Ctrl+A), navigate again to Effects > Noise Reduction and then set how much Decibel (dB) noise you want to filter out, sensitivity and the frequency band for the noise reduction. And at last tick the Reduce button and click on OK.
READ ALSO: How to Extract Audio from a Video File Using Audacity
See the magic! The all unwanted hissing noise will not be there in the audio. So, this is the way Audacity tool lets you completely remove the unwanted hissing noise from your audio, and that also for absolutely free of cost.