Audacity is absolutely free, open source and cross platform audio software which lets you record and edit audio files with different outstanding features.
It's very easy to apply echo, noise reduction and more effects to an audio using Audacity. And I many times did the same using Audacity.
Once upon a day I needed to extract the audio from video file for noise reduction using Audacity but I didn't know how! I tried directly importing the video file to Audacity but no luck.
But, I got the solution in seconds as it was in front of my eyes. So, wait, I will guide you how to extract audio file from a video using Audacity and perform the desired actions.
How to Extract Audio From Video Using Audacity
As we know that Audacity doesn't let us import video files, it's in fact a tool to play with audio files. So, how would you edit the audio of a video file using Audacity?
Generally, if you installed Audacity and try to import a video file directly in Audacity, it will prompt a message regarding error in importing file, and when you click the Help button out there, you'll know the solution.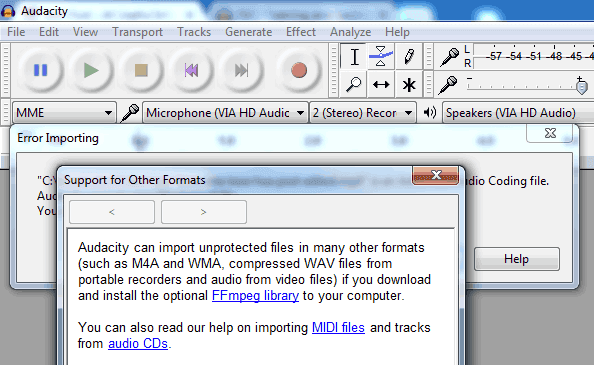 It means, you need to download and install the optional FFmpeg Library to your computer in order to directly import audio of a video file and extract after editing.
To download FFmpeg Library to extend the productivity of Audacity, open the Audacity tool, navigate to Edit > Preferences > Library and then click on Download button and follow the instructions to download or simply click on this link and left-click the link ffmpeg-win-2.2.2.exe.
After downloading, click on the downloaded file, run the setup and follow the instructions to install the FFmpeg library.
After successfully installing the library, again navigate to Edit > Preferrences > Library and then click on Locate button. And it will through the popup like following. Click on No, and that's it.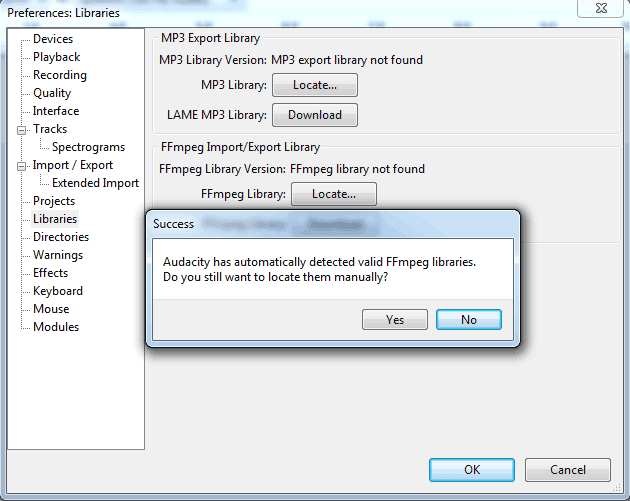 Finally click on OK. That's all. Now, to import audio of a video file into Audacity, just navigate to File > Open and choose any video file and the audio of that video file will be automatically imported.
And after editing, you can export the audio file either in MP3 or WAV file format. So, by this way you can also use Audacity to simply export the audio of any video file in seconds.