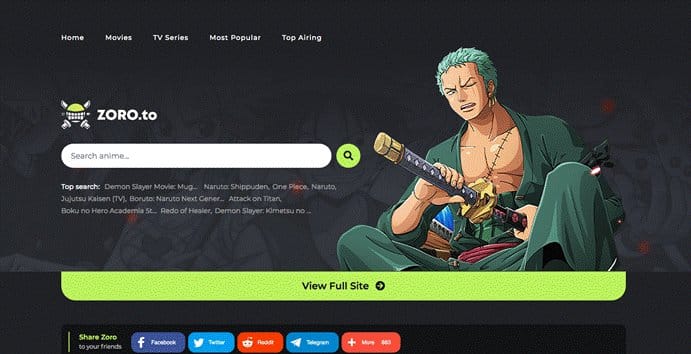 As KissAnime and GogoAnime have been giants in the free anime streaming world for a long, it is hard for new sites to compete. Recently, Zoro.to is considered the impressive new kid on the block, so we decide to make this comparison in hopes of letting our readers know whether Zoro lives up to all the hype as well as which site suits their needs better.
What Are KissAnime, 9Anime, and Zoro?
Before learning in-depth about these 3 free anime streaming sites as well as their pros and cons, let's take a brief look at what they are.
KissAnime and 9Anime are among the world's biggest ad-supported streaming anime websites, where you can stream and download free anime in HD quality without having to register or pay a single dime.
Meanwhile, Zoro.to is among a few anime streaming sites that let you stream and download your favorite anime in ultra HD quality without registration or payment. Zoro.to provides pretty much what KissAnime and 9Anime have to offer and it has an edge over these two other sites as it is completely ad-free.
Are KissAnime, 9Anime, and Zoro Safe?
KissAnime and 9Anime are safe only when you have your AdBlock extension on. With the number of ads and popups on their sites, you need to take precautionary measures to prevent viruses and malware from harming your device and even your identity. As Zoro.to is ad-free, it is obviously the safest choice among the three.
Similarities of KissAnime, 9Anime, and Zoro
All these three sites boast an extensive content library, excellent resolution, fast updates, superb streaming capabilities, and a simple user interface. Another great bonus of these sites is that no registration or payment is needed, meaning that you can watch free anime online without putting your identity at risk.
Differences of KissAnime, 9Anime, and Zoro
No site is perfect and these 3 mentioned sites are no exceptions. While KissAnime is complained about malicious ads, no app support, and an inconvenient mobile version, 9Anime doesn't completely satisfy its users with its large number of ads and slow load times.
So far we haven't encountered any huge issue with Zoro.to but surely there are also areas the website could improve. It can start with building an app to optimize the website.
Now, let's take a look at the sites in detail to decide which site suits you the best.
1. Design
KissAnime looks a bit sloppy due to the number of ads shown on its homepage. To be honest, it has a cheap look and it doesn't seem trustworthy to those who visit it for the first time. We wouldn't feel comfortable accessing the site in a public place given that NSFW ads are so apparent.
9Anime does have a premium look and the color combination (black, purple, and white) is pleasant to our eyes. There are several ads (mostly adult ones) on the homepage but they are not so obvious as KissAnime.
It totally depends on individuals to decide which site looks better, 9Anime or Zoro. However, we all have to agree that Zoro does look premium and with zero ads on the homepage, no one would think we are on a free site.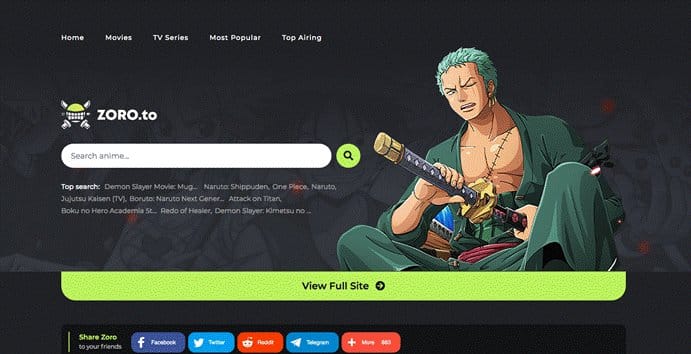 2. User Interface
A simple user interface is important, as no one wants headaches at a site aimed for entertainment. Navigating through KissAnime doesn't seem to be a challenge, however, with malicious ads that even cover the search box, this site obviously discourages those who don't have much patience to explore it.
On the other hand, the user interfaces of 9Anime and Zoro are super simple and intuitive. You can easily figure out how to navigate through these sites from a quick look. If you already have a title in mind, you can type it in the search box or explore the sites through their categories.
3. Device Compatibility
KissAnime's mobile version is disappointing. Given that the site is one of the leading sites to watch free anime online, KissAnime surely can do better. A large number of anime lovers watch from mobile devices so we really think they should consider a re-design for mobile browsing.
Meanwhile, 9Anime and Zoro are mobile-friendly and Chromecast supported, you can access the site at ease using any Internet-enabled device. Imagine watching anime on your way to work with your phone, and later on your comfy bed with a large-screen TV. Isn't it such a wonderful day for an anime lover?
4. Ads and Popups
We know we have repeated it several times but KissAnime's biggest problem is the ads. Ads are vital for the site's survival as it is their only source of income. But so is the traffic. If they can lessen the number of ads and popups, we are sure they can drive more organic foot traffic.
9Anime is also ad-supported but it is more acceptable than KissAnime. If you don't mind sitting through a couple of ads, it shouldn't be an issue streaming free anime online at 9Anime.
Ads and pop-ups are nowhere to be found at Zoro. This is the best site you can find for a seamless streaming experience.
5. Customer Service
You can request titles or report broken links at KissAnime following these instructions.
9Anime also provides their email address in case you have any queries, inquiries, or requests.
For Zoro, they claim to be on active mode 24/7 to fix broken links, update requested titles, as well as respond to any query, or business-related inquiry by its users.
We hope with the detailed comparison above, you have already known which site you prefer. As said above, none of these sites is perfect, but it is important that they work hard to be as near to perfection as possible. Choose a site that is willing to listen to its users, to adjust for a better version of itself. And of course, there might be many 9Anime and Kissanime alternatives available but Zoro.to seems to win this race.