WhatsApp is updating its policies and creating a new impact on the users. By accepting these terms, you can use it, or else, you will not continue using WhatsApp. The latest notifications came on 5th Jan 2021. The official notification is available on both the Android and iOS platforms, and users are getting aware of the new update.
These messages aim to make users agree to the latest terms and conditions, and if they are not accepting it, they can not continue with WhatsApp from 08-02-2021. Users can contact the help center of WhatsApp to clarify all these updates in the terms and policies.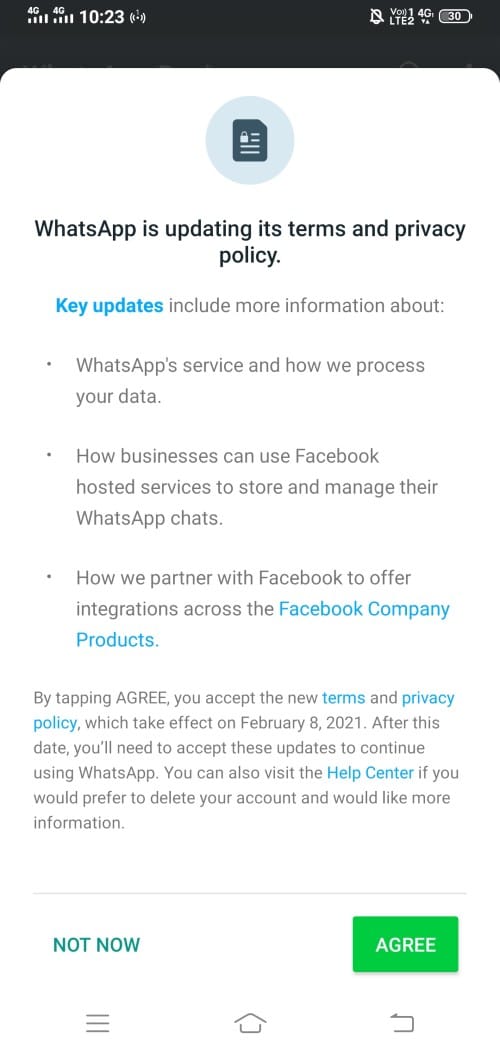 It's clearly mentioned in the popup notification received that "by tapping AGREE, you accept the new terms and privacy, which take effect on February 8, 2021. After this date, you'll need to accept these updates to continue using WhatsApp."
Let us understand what the latest policies and updates in WhatsApp are.
Additional Information About Data Handling
You will get sufficient information that you were willing to know about WhatsApp's data processing. It will create a better impact on user data, and it will create transparency among users to know more about their data privacy.
You will know how data processing and handling is done to keep your data safe with these terms. Users can understand every feature and function of their data, and they can raise a concern directly to the help center. They will understand how WhatsApp data encryption works. These updates will come into force after 8th Feb, and users will receive a notification instead of a direct message from WhatsApp.
Communication Updates for Businesses
In the technical era, businesses rely on WhatsApp for their daily management. They communicate with their clients and customers using WhatsApp, allowing them to know their customers. Now in the new features, businesses will get extra benefits for communication. Business communication is becoming stronger, and it is giving better opportunities to enhance businesses.
Businesses know their potential customers, and by allowing third-party apps in the WhatsApp business, they can communicate with their customers directly using other apps. On WhatsApp, they can manage their customers effectively and manage the business without getting any complications.
Connections are Getting Easier
Being with the company under Facebook, WhatsApp messenger can be compiled with Facebook to connect. You can integrate Facebook apps to generate better leads for the business and can connect to versatile users. This will help you understand your connections, and by compiling Facebook apps, you can directly use them in WhatsApp.
Agree or Say Goodbye to WhatsApp
WhatsApp's latest features and conditions will directly create a better impact on the user experience, and they can communicate with their potential customers. By compiling third-party apps, you don't have to move here and there to create your presence.
Simply using WhatsApp, businesses and normal users can experience a lot of things. By accepting the latest modifications in WhatsApp, users can continue to use WhatsApp without any further complications. These updates will enhance the businesses and create transparency for the users. They can understand the mechanism of data management in WhatsApp.
You can read about these updates in detail on the official page for legal updates on the WhatsApp website.
WhatsApp users must have to agree on the latest terms and conditions to continue with it otherwise you won't be able to use WhatsApp after 8th February 2021. Users will get notifications directly in the notification bar if they haven't received them yet.
Read Next: Facebook isn't Happy with App Tracking Transparency in iOS 14