Google has launched many more interesting and useful services for its users and always keep working on other new services to be launched soon. One of the most recent service of Google is Helpouts, I mean Google Helpouts. I hope you might be heard about it. By the way, my today's topic is all about the superb Google services that have been discontinued and no longer available.
So, guys as Google is continuously launching its new services and products time by time, there are many of its superb services that have been discontinued with over the time.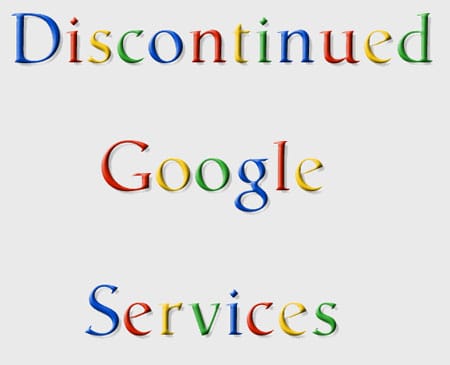 Here, I've listed 10 most popular Google services that are no longer available or discontinued over the years and months. Have a look on the following list of discontinued Google services:
1. Google Answers
Google Answers was an online knowledge market offered by Google that allowed users to post bounties for well researched answers to their queries. It was discontinued on 28th November 2006. However, it is still accessible for read only purpose.
Recommended Posts:
2. Google Buzz
Google Buzz was a social networking and micro blogging site that remained in existence for a little amount to time. I mean, it was released in February 9, 2010 and discontinued by the end of 2011.
3. Google Dictionary
Google dictionary was an online dictionary by Google and it was originated from Google Translate. It was discontinued on 5th August, 2011. However, you can use Google search as a dictionary.
4. Google Notebook
It was an online notetaking and web-clipping application that permitted users to clip text, images and links from web pages while browsing and save them online so that can be accessed from anywhere through any computer. But, Google exported all its data to Google Docs and shutdown the service in July 2012.
5. Google Health
Google Health was a fantastic and very useful personal health information centralization service that was introduced by Google in 2008 and terminated in 2011. Now, this service is permanently discontinued and no user can retrieve their data.
6. Google Website Optimizer
Google Website Optimizer was a great and useful service useful for webmasters specially. It was discontinued on August 1, 2012. This service helped many online marketers and webmasters to increase the value of their websites and traffic.
7. Google Friend Connect
Google Friend Connect is an online service or we can say it a social networking site that allowed users to build a profile, share and update information (through messaging, photographs and video content) via third-party sites. This service is also no longer available and has been discontinued on March 1, 2012.
8. Google Insights For Search
Google Insights for Search was a fantastic service by Google to provide insights into the search terms people have been entering into the Google search engine. This service has been discontinued since September 27, 2012 and merged in Google Trends.
9. Google Talk
Google Talk was a very popular desktop instant messaging Google service that mostly everybody may be heard about. However, this service is not discontinued but only the name and some of its features has been replaced with the other Google service called Google Hangouts in 15th May, 2013. That's why I've listed it in discontinued services of Google because Google Hangout will be completely different expirence for Google Talk users.
10. Orkut
I think, there is no need to tell you about Orkut because it was the widely popular social networking site of Google that has now been discontinued in September 30, 2014.
More You Should Read:
So, these were the most popular services of Google that have been discontinued. None of these services are no longer available. But yes, Google Hangouts is available as an advanced version of Google Talk. I'm sure that after remembering and knowing about these services, you'll definitely miss them a lot.