There are several useful software available on the Internet which helps you to make your computer work easily. You can download this software from the Internet according to your requirement. So, today's article is based on the same topic. I've come up with 4 most useful software for your Windows 7, Vista, XP, and Windows 8 computer.
Some of these apps will help you to delete non-removable files from your computer, find duplicate files, remove malware programs, etc. So, have a look on such useful software for your Windows PC –
It is a free tool to delete files blocked by something you don't know. LockHunter is useful for fighting against malware, and other programs that are blocking files without a reason. It deletes files into the recycle bin so you may restore them if deleted by mistake. It supports in Windows 2000\XP\2003\Vista\W7\W8.
Read: 5 Most Popular Software Companies In India
Key Features :
Shows processes locking a file or folder
Gives you detailed information on the process
Allows to unlock, delete, copy or rename a locked file
Can delete a file at next OS restart
Allows to kill locking process
Allows to remove locking processes from hard drive
Can unload DLLs from processes
Integrates in to Explorer menu
It deletes files into the recycle bin, so you may restore them if deleted by mistake
Supports both 32 and 64 bit Windows
2. WinPatrol
WinPatrol is another useful software for your Windows computer. It is used to detect the minor or major changes in your computer due to virus attacks or some other reasons. So, with the help of WinPatrol software, you can find out the several changes in your computer. It supports in Windows XP\Vista\Win7\8.
Key Features :
Smallest in size
Fastest system monitor
Detects new changes due to infiltrations and Zero-Day attacks
New Cookies support
Windows update handling
Restore position and size
Additional support for Scheduled Tasks 2.0
International date time format
Malwarebytes is a software program which detects and destroys new zero hour malware that your antivirus will miss. So, if you feel that any type of security problem due to virus, spyware or malware and your antivirus is not so effective then this tool will be helpful for you. If your computer is highly damaged by virus, download this software in other computer and copy in your pen-drive. Now, inset this pen-drive in virus affected PC and run the program inside the pen-drive.
This software supports in Windows XP Service Pack 2 or Later, Windows Vista/Windows7/Windows 8 (32 bit or 64 bit). It's two versions are available – Free and Pro. Some outstanding features of Pro version are following.
Key Features :
Detects and protects against malware in real-time
Blocks hacking and phishing attempts
Schedules automatic scanning
Offers three flexible scanning modes
Compatible with most major antiviruses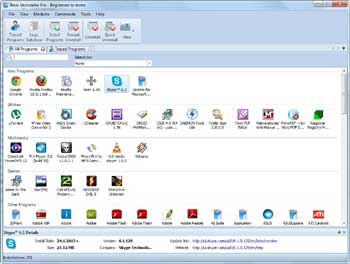 Revo Uninstaller Pro helps you to uninstall software and remove unwanted programs installed on your computer easily even if you have problems in uninstalling and cannot uninstall them from "Windows Programs and Features (Add or Remove Programs)" control panel applet. When you delete or uninstall a program from control panel, some of its files, folders and settings still may be in your PC. So, this useful software helps uninstalling programs completely from PC.
Read Also: Best Uninstallers for Windows
The Revo Uninstaller works fine in Windows XP, Windows Vista, Win 7 and 8. You can download its FREE trial for 30 days. Some important key features of Revo Uninstaller Pro are following.
Key Features :
The Uninstaller tool lists the installed programs and components
Powerful feature called Forced Uninstall
Enables user for Quick\Multiple Uninstall
It's Real Time Installation Monitor allows you to monitor of installation of a program
You have a full control over the traced logs
It creates backups of removed registry keys, values, files and folders.
Conclusion
I've just compiled this article for every Windows PC users and I believe that all these software will be proven very helpful for you. Not only one but all of 4 are useful and you should be install in your PC.