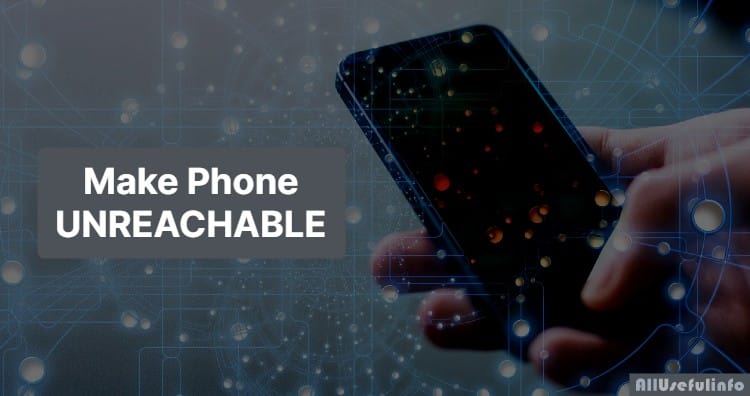 Friends there are many conditions when you don't want to pick up someone's call, you can do this easily by switching off your mobile. But there are many such conditions that you even can't ignore their call and want to make your call unreachable or in other words, you want your mobile to say to the caller that "The number you are calling is currently out of coverage area please call back after some time". This condition arises in everyone's life now and then.
To sort out this problem there are several tricks to make your mobile unreachable and the caller will think that there is a network problem. The simplest and easiest way to do this is by taking out the battery while the mobile is not switched off. Well, all such tricks to make your phone unreachable are discussed below in detail.
How To Make Your Phone Unreachable: 5 Tricks
Different mobile phones have different features, configurations, and settings, so it's possible that any of the below-mentioned tricks don't work for you. For example, the "battery removing trick" will only work if your phone supports a removable battery. However, there are some such tricks as well that work for everyone. So, have a look at the following tricks to make your phone not reachable.
Trick #1: Put Your Phone in Airplane Mode
The easiest way to make your mobile unreachable is by putting it in airplane or flight mode. Sometimes it works that as soon as you put your smartphone on airplane mode or flight mode, it will make your phone unreachable.
Trick #2: Wrong Network Selection
You can make your phone not reachable by making a small change in your phone's network settings. By default, your smartphone chooses the best possible network automatically. But, you can choose any network manually too, and if you manually choose the wrong network that is not reachable at the moment, this will make your phone unreachable to the callers.
To make your mobile unreachable follow these steps. Go to Settings » Network Selection. You will get two options Automatic and Manual, click on Manual. It will show you all possible operators but you need to click on the wrong network operator. An error will occur and then your mobile will lose its network. When you want your mobile network back then again click on Automatic in the network selection option. You will get back to your actual phone network automatically.
Trick #3: Forward Call to a Closed Landline
The third and easiest trick is to forward your call to any landline at your home and then remove the receiver from the cradle. In this way, whenever the caller will call you, he/she will find that your mobile is out of network coverage area.
Trick #4: Remove the Phone Battery
As almost all mobile phones these days are coming with non-removable batteries, so it's not possible for everyone to do this trick but if you are using a smartphone with a removable battery inside, then you can try this trick.
Well, this trick is not that simple. First of all, you will need to call someone from your phone, and during that call, you will need to remove the battery from your phone. It is often seen that once you remove the phone's battery during a call, your phone network will be out of coverage area.
Trick #5: Wrap the Phone in Aluminum Foil
Many people have experienced this trick and made their phones unreachable by wrapping them in aluminum foil. This may seem full of stupidity but the fact is it really works.
The reason is when you wrap your phone in aluminum foil, it becomes very hard for your device to receive any network signals. The aluminum foil may block the radio signals from reaching your phone. So, when you wrap your phone in aluminum foil, the caller will find that the phone is out of network coverage area.
Any Other Trick?
Still unable to make your mobile phone unreachable? Looking for any other trick to make your phone not reachable? Let me tell you that I have already mentioned the top 5 tricks that can help you make your phone unreachable. But there still are many methods out there that people try every day. Some of them are as follows:
Re-insert SIM Card. This is also proven by many that when you remove the SIM card, switch off the phone, and reinsert the SIM card, it will make your phone unreachable until you switch your phone on.
Try a Signal Jammer App. There are many phone signal jammer apps available on the internet such as PilferShush Jammer that claim to block your phone network to make it not reachable.
Network Overload. Overloading the network means blocking the network coverage of your phone. You can try it by turning on multiple tabs in your phone browser, downloading many apps altogether, and doing many other such activities through your cellular network. This may freeze your network connection for some time and lead to making your phone unreachable.
So, these are some other tricks that you can also try if the above-mentioned 5 best tricks didn't help you in making your phone not reachable. I hope this article will help you make your mobile phone unreachable.