You would have noticed some incoming calls appear on the screen as Private Number. This is because the caller intentionally made the number hidden. For any reason, if you too want to hide your mobile number from anyone while calling, keep reading this article.
In this article, I'm going to discuss a few tricks to let you easily hide your mobile number from anybody you call. Your number will then appear as a Private Number on the handset of the person you're calling.
Method #1:

Hide Phone Number Using Device's Settings

This is the most authentic and reliable method to hide your phone number while calling someone. Whether you're using an Android phone, iPhone, or any other phone, you can easily adjust settings in your smartphone to hide your contact number from the handset of the person you're calling.

For Android Users:
Go to Call Settings on your smartphone and navigate to More settings or Advanced settings option.
Now, tap on the Show My Caller ID option.
And finally, choose the Hide number option.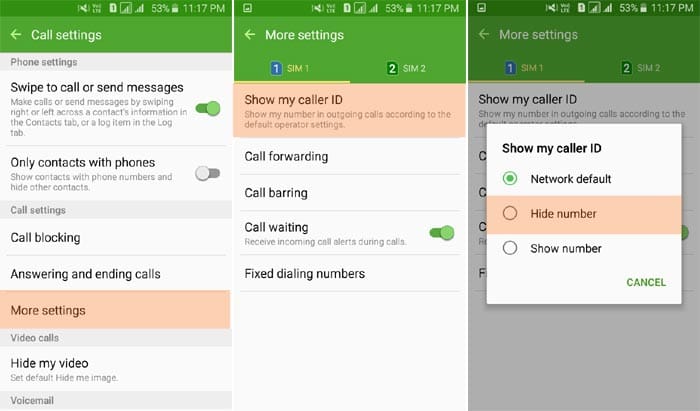 It's all. Your number will then be visible as a Private Number whenever you call someone from your Android smartphone. Isn't it simple?
For iPhone Users:
Open the Settings app and tap on the Phone option.
Here, tap on Show My Caller ID and then toggle the slider to OFF.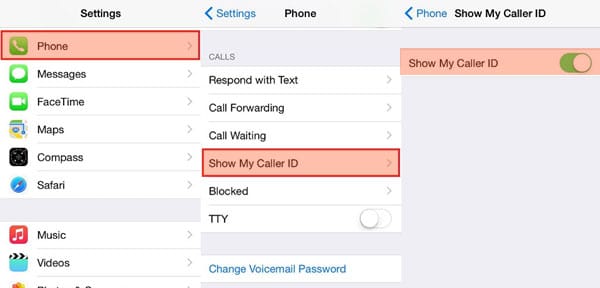 Your phone number will be hidden until you again slide this toggle to ON in your iPhone settings. Your receiver won't be able to see your caller ID.
For Windows Phone 8 Users:
Open the Phone app, tap on More (…) button and then tap Settings.
Now, tap the box under Show my Caller ID to, and you can tap no one or my contacts according to you.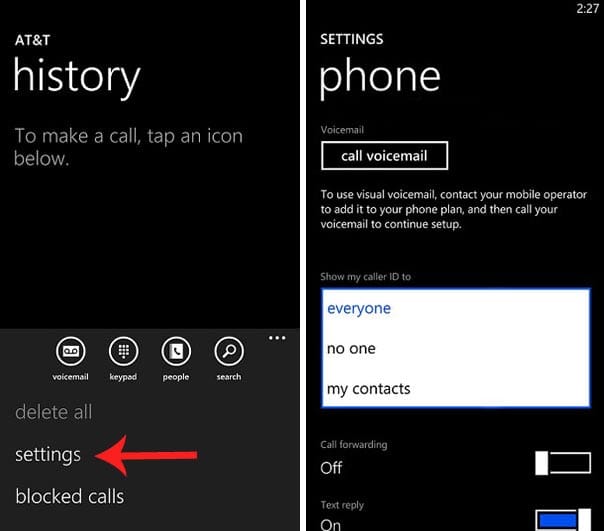 If you choose no one, your contact number won't be visible to anyone and if you choose my contacts, only your phone contact will be able to see your number.
For BlackBerry Users: 
Press the Menu key, click Options, click General Options.
Find the Restrict My Identity field & set it to Always.
That's all about hiding your contact number while calling someone using your phone's settings. But, it might also be possible that your phone doesn't have such settings to hide your caller ID, so you can try the other tricks mentioned below.
Method #2:

Hide Number by Adding Caller ID Blocking Prefix

If your phone doesn't have settings to hide your number, you can try adding a Caller ID blocking prefix, most countries have this facility.

The blocking code can be different based on the country you're living in. And also you should make sure that the code is enabled by your network provider.

Following the blocking codes for some countries:
India: *31#
Australia: 1831 or #31#
UK and Ireland: 141
Germany: *31# or #31#
North America: *67 or #31#
Albania, Denmark, Greece, Israel, Italy, Netherlands, Sweden, Norway: #31#
Argentina, Iceland, Switzerland, South Africa: *31*
Hong Kong: 133
Japan: 184
New Zealand: 0197 (Telecom) or *67 (Vodafone)
For example, if you're living in India and want to call 0123456789, you should dial *31#0123456789 to appear Private Number on the recipient's screen instead of your number.
Don't worry if your country isn't listed above. You can try *67 or #31# blocking codes as both work great for most GSM mobile networks.
But also remember, in some countries like India users need to enable Caller ID blocking by contacting the network carrier before using the blocking prefix.
Method #3:

Contact Your Carrier to Permanently Hide Number

If you're still unable to hide your mobile number from outgoing calls using your phone settings and Caller ID blocking codes, you should contact your carrier. There would definitely be a charge for this, and the different carriers would have different fees and terms.

So, contact your carrier, know the plans and pricing and subscribe for a plan you like. Remember that most prepaid plans cannot enable permanent Caller ID blocking.

That's all about hiding your mobile number while calling someone. Also remember that if you've made your number hidden, your call will not be completed for those who have Anonymous Call Rejection enabled until you call from an unblocked number.

In case, if you've made your number hidden for all your outgoing calls and want to make an unblocked call, you can use an unblocking prefix. Different countries and GSM networks have a different unblocking prefix. You may concern with your carrier customer care regarding this.