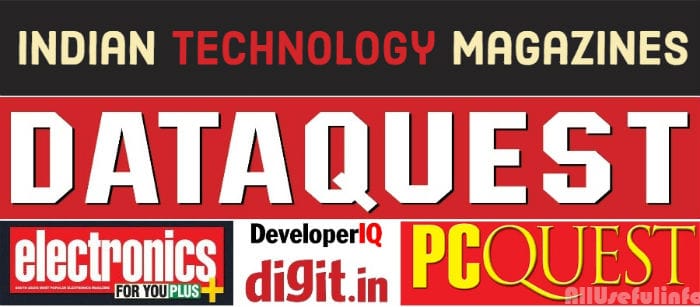 If you are a technocrat person and want to get updated with current technology events, a technology magazine is a best and most interesting way to consume the latest technology news and events. Technology magazine is a great medium to spend your free time while you are on holiday because the tech magazine is such a periodical publication in which you can get the latest technology news, tech tips, tricks, and many more interesting technology-related stories.
But, selecting the best technology magazine may be a difficult task for a common man because there are so many publications for tech magazines available in the market and some of them don't provide accurate and reliable information.
RELATED: Websites To Read Old Magazines Online
So, don't be the victim of such magazines and have a look at the following top 5 most popular technology magazines, especially for Indians.
1. Digit
Digit is the most popular technology magazine available all over India. You can purchase Digit through any of your nearest bookshops. Both Digit and Chip are my favorite technology magazines and I read both of them every month. It looks very comic and most interesting which attracts the readers' attention to the stories.
As same as Chip, it also contains tips and tricks but not every month and it will make you updated with the monthly tech events from all over the world. Here's the official site of Digit magazine.
2. Electronics For You
This is one of the best currently running technology magazines in India by EFY Group. Electronics For You was the very first technology magazine by EFY Group and now there're many publications of EFY Group available in marketing such as EFY Bazar, EFY Times, etc.
3. DataQuest
DataQuest is another Indian magazine specially focused on information technology. Starting in 1982, DataQuest is a great technology magazine in India covering articles related to information technology, networking, security, software, outsourcing, and much more.
4. Developer IQ
Developer IQ is an Indian Software magazine that provides you quality information on many technological topics. Developer IQ is mainly filled with information related to software like Software Industries and jobs in software industries.
Instead of software, it also publishes very useful information on banks, institutions, libraries, education, etc.
5. PCQuest
PCQuest, an Indian technology publication is known as the most authentic source of IT purchase decision-making content for enterprises and consumers.
It is trusted by millions of readers in India that helps to understand the latest technologies and choose the right IT products, and solutions. It covers enterprise implementation strategies, technologies, trends, and news.
Chip
Chip was the most popular and trusted technology magazine for Indians with amazing content such as worldwide tech updates, tech events, and many reviews on technological items. It was one of my favorite magazines discontinued in August 2013.
SEE ALSO: Top 10 Business Magazines for iPhone Users
So, these are the best, most popular, and trusted technology magazines that you should purchase without any doubt.