There are various types of magazines such as technology magazines, sport magazines, business magazines etc. available in the market or online but the business magazines are one of the most read publications in all over the world. So, if you're also interested in business magazines, this resource may be proven very useful for you because I'm going to show top 10 business magazines to be read online on your iPhone or iPad devices by download them from iTunes App Store.
Whether you are a businessmen or wanna establish your own business, these magazines will be very useful for you because you will find many essential aspects about business and investments such as new idea to start your business, reliable annual rankings of companies, business trends, tech innovation prominent business leaders and many more.
Top 10 Business Magazine Apps for iPhone/iPad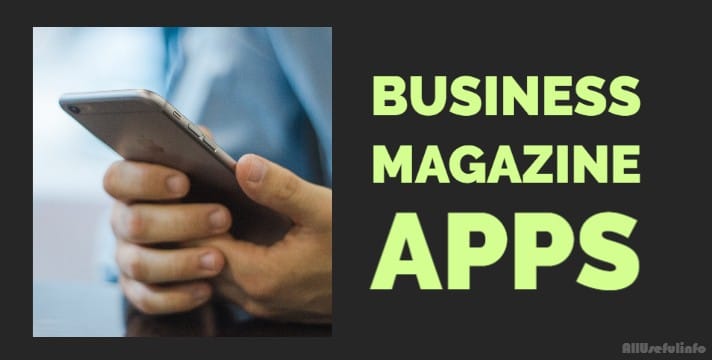 Now, look at the following business magazines I listed here for iPhone and iPad users. You can easily download them by following the attached link from iTunes App Store.
Fortune is an American business magazine published globally by Time Inc. iPhone and iPad users have a great vantage to use this magazine in their device and stay connected with all the trending information of business field.
Fortune is particularly well known for its exceptionally reliable annual rankings of companies. Examples include the "FORTUNE 500," which ranks the world's companies by gross revenue, and the "Best Companies to Work For," which has become an industry benchmark.
Barron's is the widely popular premier investing or financial magazine by Wall Street Journal. You can get this amazing business oriented magazine on your iPhone or iPad by downloading from iTunes App Store.
In this magazine you will find the intonational investment ideas, clever wealth advisers and you can also meet the top financial advisers to give your business a new heights and success by investing money in right task.
Entrepreneur Magazine is a North American publication that carries news stories about entrepreneurialism, small business management, and business opportunities.
This business magazine is licensed to various countries around the world, including Mexico, Russia, India, Hungary, the Philippines and South Africa. But you don't need to worry, just follow the link above and download this app in your iPhone or iPad from anywhere around the world.
Bloomberg Businessweek is a weekly business magazine popular is all over the world. Bloomberg Businessweek delivers the business information you need such as surprising and timely perspectives on the most important issues of today and unique stories you won't find anywhere else.
With Bloomberg Businessweek you'll have the insights you need to take advantage of the new reality and thrive in today's complex global economy. So, just pick up your iPhone in your hand and download this newsstand in your device.
I think I don't need to tell you anything about Forbes because it already a widely popular and most read magazine in all over the world.
So, this Forbes app will work as a gateway to the ultimate Forbes experience by combining the power of the print magazine with the dynamic and content-rich Web site.
The Forbes app starts with Forbes magazine and its stories about the entrepreneurs and executives who are changing the world; the innovative companies that are changing how businesses work; and strategic insights to help shape your investment strategies.
Economist Espresso is a popular business and finance magazine originally published by The Economist. This app is optimized for iPhone and iPad users.
This magazine summarises the latest news and highlights the most important stories of the day ahead in business, finance and politics to give you the inspiration and best practices you need to excel in today's complex business environment.
ZINIO is an award-winning magazine app by ZINIO LLC. This app lets you read the latest news on your iPhone, iPad, Mac or PC. After installing this magazine app on your iOS device, you will find the best of Tech & Science, News & Business, Food & Home, Art & Photography, Lifestyle & Hobbies, Fashion & Gossip etc.
The Economist is a popular business and news magazine which can be accessed by iPhone or iPad users every week new stories focused on current affairs, business, finance, economics, science, technology and the arts.
Wired is a monthly American magazine published whether in print and online format. If you're an iPad user, it will be easier than ever to use this groundbreaking magazine on your device every month with a new edition.
However, it's not fully business magazine, in fact you will many technological topics in this magazine along with business stories but I listed it because I like this magazine so much and I hope it can be a great choice for entrepreneurs and businessmen.
Inc. magazine is another popular monthly business magazine publication that mainly focuses on the growing companies. So, this magazine can give the best advice and inspiration for growing your own company.
Inc. Magazine provides the fresh and beautifully designed articles to guide CEOs and owners of small-to-midsize companies to succeed. This magazine app is available for both iPhone and iPad.
READ ALSO: Popular Business eBooks for Android Users
Final Words
All the above magazines are the most popular and I can't suggest you one from these 10 (because all are the best). But in case of a pure business magazine for iPhone or iPad devices, I would like to read Fortune, Entrepreneur Magazine and Bloomberg Businessweek.