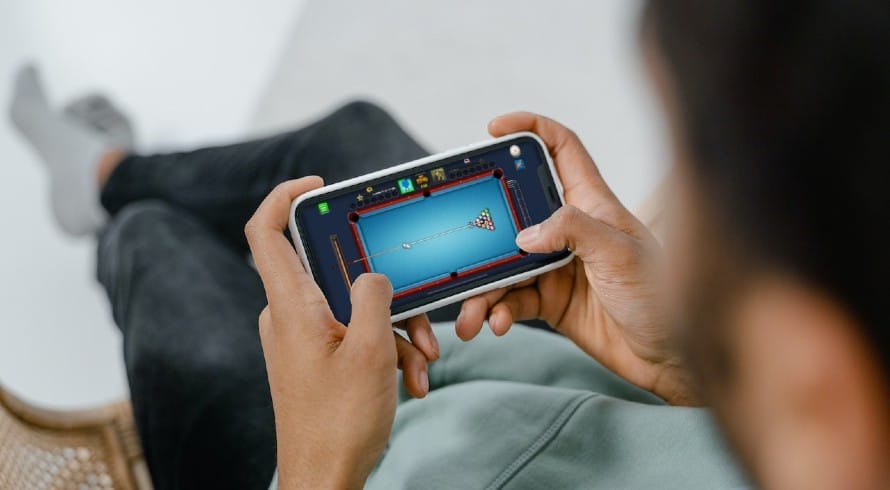 The pandemic has given a great boost to the mobile gaming industry. It has become the largest and the most profitable untapped market. You can easily just sit and savor the fun of playing your favorite games on your mobile devices. It gives a sense of being active and an adrenaline rush that you get while playing a real sports game. These AI-driven games have a huge volume of users, who download these games and play them every day.
Due to the heavy usage, sports mobile games have taken over the apps industry by storm. You can play these games both offline or online and even invite your buddies to play along. Let's take a dig at these best mobile sports games.
1. Cricket League
Cricket is not a game, it's a feeling! The craze for cricket is boundless, whether you like to watch it or play. The Cricket League is a very enticing sports game for mobile devices. It offers a complete tutorial on the sport so that you get the best of it.
Its graphics are a class apart which makes the game more thrilling. It has some of the best cricket teams as well, like New Zealand, South Africa, Sri Lanka, etc. It gives you the feel of playing a real cricket tournament. Cricket League is available for free on Android devices.
Download on Android
2. Golf Star
It's time to swing! Golf Star is a very easy-to-play sports game, where you can do customizations as per your wish and challenge yourself to become a pro in the game. You can go into various modes like Career Mode, Goodwill Mode, or Tournament Mode.
It is a multiplayer game and also offers in-game currency for winning. The better you keep becoming a player, the more access you will get to high-tier clubs and items. It is available on the Google Play store and Apple App Store.
3. F1 Mobile Racing
Now here comes one of the best sports simulation games, F1 Mobile Racing. This game is close to every gamer's heart who loves car racing. It seems unrealistic to drive a car in an F1 race but this mobile game will give you the best thrill and experience in the virtual mode.
It offers various tracks for the race, different styles of cars to choose from, and world-class visuals. You can even design your F1 car and compete with people across the globe. You can find the F1 Mobile Racing app for free on both platforms, Android and iOS.
4. NBA Live Mobile Basketball
For all the basketball enthusiasts out there, NBA Live will help you delve into the real world of basketball. You can create your team, manage it and make it win. The more you play, the more you go up the ladder and earn points, jerseys, and much more.
This free sports games app also offers live events and helps you hone your skills while playing basketball on your mobile device. Isn't this exciting? Learn while playing! It gives many modes to play like the PvP Mode, Casual 3v3s, Real-time Matches, etc.
5. EA Sports UFC Mobile2
This is an Electronics Arts Game, with breathtaking visuals and superb features, and touch controls. If you are a fan of martial arts then you must have this game on your mobile device. It offers 70 fighting Championships, wherein you can select your favorite player and can train them to win the fight for you.
It replicates the real fighters where each has his fighting style and moves. It is fascinating to unlock more mixed martial arts as you keep winning and going ahead. This is the best sports game for mobile devices, available at zero cost.
6. 8 Ball Pool
Do you want to avoid angry opponents that are holding long sticks? Then, quickly download the 8 Ball Pool game on your mobile device. It is free of cost and offers the best simulation of a pool game. Its controls are easy to play with and help you manage the strength of your shot and cue positions.
As you win, the difficulty level increases and the leaderboard matches that level. It is a very enjoyable game and gives you access to buying customized items on winning the one-on-one tournaments.
7. True Skate
Another free sports game app for Android is True Skate. It offers good graphics and friendly touch controls that lets you control the skateboard and do tricks. The initial game starts with one skatepark and as you go ahead you can unlock more parks, customizations, targets, etc. it offers exciting features like rewind, replay, slow motion, and many more.
Download on Android
8. World of Tennis – Roaring '20s
This is a new tennis game in the market that takes you through a journey of becoming a successful tennis player while playing on your mobile. The visuals are based on the 1920s era and are pleasing to the eyes.
It offers modes like Career Mode and Multiplayer Mode. It also lets you train your AI avatar, unlock customizations, and even start as a naive tennis player. It offers a superb experience and kills boredom. It is available for free only on Android.
Download on Andorid
The above list covers some of the best sports games that are available for free on Android and iOS. You can download them to enjoy the real-life sports-playing experience on your mobile devices.