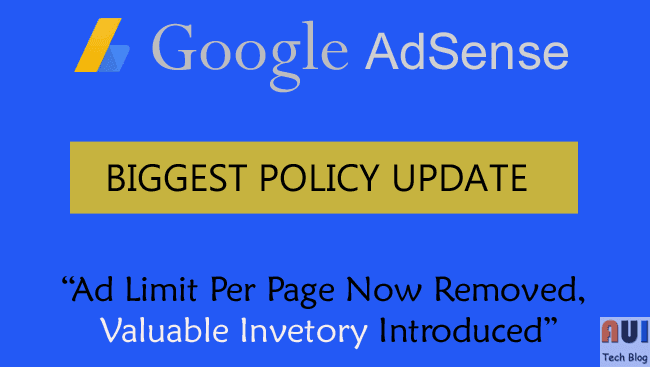 [Published on: Aug 23, 2016] Google Adsense is one of the main source of income among bloggers. Till now Adsense publishers was limited to show only 3 number of total content Ad Units, 3 link units and 2 search box units per page but now you will be surprised to know that Adsense recently made some change to its one of the Ad Placement Policies which is clearly indicating that the ads limit per page now lifted.
This is arguably the biggest change by Adsense in its Ad Placement Policies by removing the per page ad limits. However, mostly they don't make announcements about product and policy changes so don't worry if you didn't get notified about it.
The Detailed Information of This Adsense Policy Change
Here're the words of Google Adsense's recent policy change and the old policy which is now removed. You can see the change yourself.
Old Policy: Ad limit per page
Currently, on each page AdSense publishers may place:

Up to three AdSense for content units
Up to three link units
Up to two search boxes

Publishers may not place more than one "large" ad unit per page. We define a "large" ad unit as any unit similar in size to our 300×600 format.
Read out the full text of the old policy of Adsense from WayBack Machine.
The New Updated Policy: Valuable inventory
Advertising and other paid promotional material added to your pages should not exceed your content. Furthermore, the content you provide should add value and be the focal point for users visiting your page. For this reason, we may limit or disable ad serving on pages with little to no value and/or excessive advertising until changes are made.

Examples of unacceptable pages include but are not limited to:

Mirroring, framing, scraping or rewriting of content from other sources without adding value
Pages with more advertising than publisher-provided content
Automatically generated content without manual review or curation
Hosted ad pages or pages without content
Pages that don't follow our Webmaster Quality Guidelines.
Source Page of This New Policy Change
What Does This Policy Change Mean!
You're now allowed to put more than 3 ad units per page.
You can now place more than one large (> 300×600) ad unit on a web page.
There is now no limit for using 320×100 ad unit for mobile phones.
My Final Words to Adsense Publishers
Many people would be thinking that why Google made such change in policy. It's very simple to guess — these days publishers have been having the hard enough time as dealing with ad blockers etc. and these type of ad policies were main among the reason behind account suspension.
So, now Google is trying to make web publishers happy by changing such Ad placement policies.
In simple understanding, it's just the relaxation of ad policies. AdX users knows it well how to use more than 3 Adsense ad units per page, but with this policy update now you can do this without needing have AdX account.
However, according to the new policy "Valuable inventory" they're still saying that "Advertising and other paid promotional material added to your pages should not exceed your content" but there is not any specific limit of how many number of ads should be per page.
So, it doesn't mean they're not specifying the limits clearly you can litter your webpage with ads. You shouldn't go crazy to display more advertisements on your pages just because Adsense removed the ad limits.
You should take decision wisely about showing ads on your page. Now, with this new policy you've freedom to increase the number of ad units per page according to the increasing length of your content.
[su_note note_color="#f8fff8″ text_color="#222222″ radius="2″]
More For Adsense Publishers:
[/su_note]