If you're a Google Adsense publisher you would notice that Google Adsense recently launched a new feature named "Matched Content" for its publishers. For simple words, Matched Content means Related Content. So, this feature is being used by Adsense publishers to show related content on websites or blogs.
Yesterday I also received the notification about this Matched Content feature in my Adsense dashboard. And after reading about it well enough I really found it very well. Because the default related posts feature by me theme is not that good (honestly doesn't show the posts which are really related).
So, I thought that Google can do this work more effectively as Google is already a master for showing relevant search results according to user's query and that's why I thought that Google's new Matched Content feature will work great, and after applying it on my site, I felt that it's just awesome, as it's showing the posts which are really related to the content.
How Does it Look?
However, the look of the matched content you can customize yourself but still, you can check out any of the content of allusefulinfo.com to ensure how it's looking for my site (how I customized it).
Again, I would say that you can customize it according to you from your Adsense publisher dashboard. So, isn't it a great feature provided by Google Adsense?
I believe that it will really be very helpful to increase the page views, RPM, and relatively the revenue. So, I will highly recommend all the publishers to add this match content unit on your site.
How to Know if Your Site is Approved for Matched Content?
Of course, the feature is not available for all the publishers. However, Google is itself sending the invitations to the publishers but still if you didn't get any notification and wanna add this matched content widget to your site, first you will be needed to make sure that whether your site is approved by Adsense for matched content or not.
To check it out, sign in to your Adsense account, click on Gear icon and select "Settings".
In the sidebar, under "Account" click Site management.
Here, under the "Owned" tab, check the table for a "Matched content" column:
If you don't see the "Matched content" column, then your site has not yet been approved.
If you do see the "Matched content" column, check the status of each of your sites in the table. You may place Matched content units on any of the pages of your sites marked as "Approved".
How to Add Matched Content if You're Approved
Once you've checked out that your site is approved for Matched Content, the next thing is to add it to your site. So, how? It's also very simple.
If your site is approved, you just need to create a new Adsense ad unit (as usual) and paste the code in your website, where you wanna show the Matched content, by keeping in mind that in the Ad Type, you'll have to choose "Matched content only".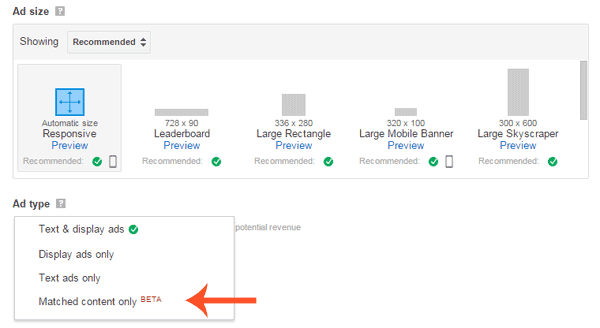 Again I would say that in the Ad Type section you just need to choose Matched Content option. And finally, after getting the code, you need to put it on your site.
READ ALSO: How to Increase Revenue from Responsive Ads
If you're using WordPress and wanna put the Matched content below the posts, you can put the ad code in single.php file above the comments template.
One more thing to remember is that after creating the ad unit and generating the ad code, put it on your site after 30 minutes (to let it start working perfectly).
That's all guys! If you've any questions or have any problem in applying the steps, feel free to ask me via comments.
Editor's Note: This article was originally published in September 2015. It was last updated in July 2020 for the refreshment of the content and removing the dead links.