Whenever you listen to your favorite radio stations and a wonderful music comes up, wouldn't you want to record it and add to your music collection. Quality has always been an issue with recording audio from radio. But this is no longer a problem with the Audials Radio App for Android. With over 80,000 radio stations on access, this is the wonder app for saving your favorite tracks from radio into MP3 files.
Before we explore the features of this amazing radio-to-mp3 app, it will be best to know that it is a free audio app. The Audials Radio App is available for free download from its official website.
Features
Ease of Use
The Audials Radio App can be used by anyone who has an Android smartphone or tablet. Users can use it with or without signing up for an account. But a sign-up will allow you to sync it its desktop version too.
You can listen to any radio station from within the Android app after searching using a number of parameters including genres, country, and other categories. Even a novice without any knowledge can use it to enjoy their favorite radio station (all the US stations and international ones too – over 80,000) and record with just a tap.
The Audials Radio App has a simple UI and you can easily find the stations and functions you want.
Thousands of Stations
As already mentioned, the Audials Radio App allows you to aces more than 80,000 Internet radio stations from across the world, not just the US. At the same time you can also search for radio stations for their genre. The android app offers you up to 80 genres to choose from.
Zap Feature
This is one of the big features of the Audials Radio App.
This feature will monitor the stations that you listen often and then it will make suggestions based on your interests. All you have to do is to tap the 'zap' button and the Android app will present you with other radio stations that play similar music or content. This really eliminates the hard work from having to search from thousands of stations.
It will search stations based on band, artist or other characteristics.
So when listening to a radio station you come across a commercial, the 'zap' feature will take you to another station with similar content.
Radio Station Alarm & Sleep Timer Feature
The Audials Radio App is not just meant to save high-quality music from radio stations. You can even set a sleep timer and alarm. So if you want to sleep at the right time and the app will stop radio so that you can go to sleep. The alarm clock will wake you up with the radio station set by you.
Access PC
Again Audials Radio App is much more than an Android app for recording Internet radio. It allows you to connect your smartphone and your PC so that you can access your track collection on the PC. Copy it and enjoy it on your phone wherever you are.
Thus, you can see that Audials Radio App is not just another radio app. It's a more powerful Android app that offers many more features. It also allows you to play music from 'track history' or create a collection of tracks which can be played back.
Equalizer
The Android app can also be used to play audio files from your own music collection on your smartphone. The equalizer allows you to set the band based on your personal preferences. Else you could choose from the preset options that includes everything from normal to pop to rock to classic and everything in between.
So if you already have a collection on your smartphone, Audials Radio App can work as your music player too. In fact, it can also play video files. But that is not its primary purpose, but it doesn't hurt in anyway. So you can use the same app for recording tracks from radio and listening to your music collection.
The Audials Radio App for Android is even better than its more popular competitor apps. It offers much more than you can find anywhere else.
Album Art Discovery
Audials Radio App has another unique feature that makes it different form the competition.
Whenever you are playing a song, it will search for an album art matching the track. It is a great feature and works most of the time. At times it does end up with album art that doesn't match with the track.
Control Bit Rate Search
Finding radio stations with good sound quality has always been a concern. Usually, there is a difference between mp3 quality and that of Internet radio. Audials Radio App addresses this issue by enabling searches for minimum-bit rate stations. So you can find stations with good quality music.
Podcasts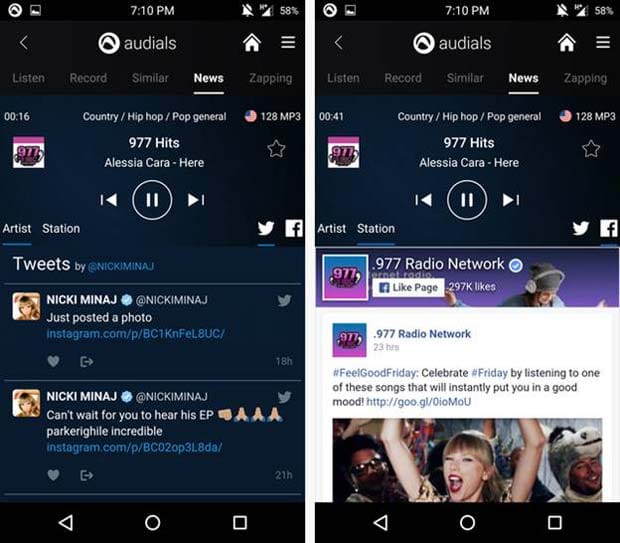 There's another feature that makes Audials Radio App even more special. Your smartphone is your most trusted entertainment device and this Android app takes this aspect further higher.
It provides you access to thousands of podcasts across multiple categories. Whether you are a teen looking to save your favorite pop or rock music or someone who chases news and current affairs or someone who has a knack for documentaries, there's everything offered in the form of podcasts within this app.
Conclusion
The Audials Radio App is one of the most comprehensive radio app you can find. It is a powerful, feature-loaded app that's extremely easy to use. A few taps is all that is required to access any of its functions.
Initially you may find the Android app to be a little cluttered, but once you get a knack of how to use it you'll find that every action takes just a tap. The app is available in a free and paid version. The Audials Radio App is available for download from its official site.
[su_note note_color="#fffef8″ text_color="#222222″ radius="2″]
More Interesting Posts:
[/su_note]