Google penalizes you not only for harmful links from your site but also for the harmful links to your website from other bad websites. And this is when most webmasters think it's something out of their control. But, there're many ways to get rid of such kind of penalty.
The biggest challenge is finding out the bad links pointing to your website so that you can ask the owner to remove them. And when anyhow you find them by using tools like Google Search Console or SEMRUSH, most of the time owners of those harmful links don't respond. This is when it seems out of our control and we remain helpless. But, Google still has something for you.
You can still remove the bad links pointing to your website by using the Disavow tool through Google Search Console. In this article, I will be guiding you to easily find and disavow the bad links from Google Search Console.
Finding Out Bad Links in Google Search Console
You can very easily find out the bad links pointing to your website through Google Search Console. For this to do, you need to sign in to your Google Search Console account and click on Links inside your web property.
Here, you'll find different kind of information about the links pointing to your website such as external links, internal links, top linking sites, top linking text etc. You can find out the bad links pointing to your website by reviewing the top linking sites pointing to your website.
Just click on More button to view all the sites linking to your website. You can also download the complete list of these sites in your computer. All you now need to review the each site pointing to your website that you can check through various SEO tools like Alexa, ahrefs etc. If you find a bad website, note it down so that you can disavow it later.
If you find many linking pages of a bad website, note down the main URL of the website to disavow it completely and if you find any bad website whose only 1 or 2 pages are linking to your website, you can note down only those page URLs to individually disavow them.
That's all about finding the bad sites and links pointing to your website. Now, let's learn how to create disavow file and submit it to Google through Disavow Tool.
Creating a Disavow File Correctly For Successful Submission
You need to note down all the bad links that you filtered from the link profile in Google Search Console in a text file and of course there is a procedure to do so. Following are some points you need to take care of while creating a disavow file in notepad:
You should specify one URL of domain per line in the text file to disavow.
You cannot disavow an entire subpath, such as example.com/en/.
To disavow a domain, prefix it with "domain:".
The file extension must be .txt.
You can include comments for yourself by starting a line with # mark. All the lines started with # will be ignored by Google.
Now, let's see an example of a correct disavow file: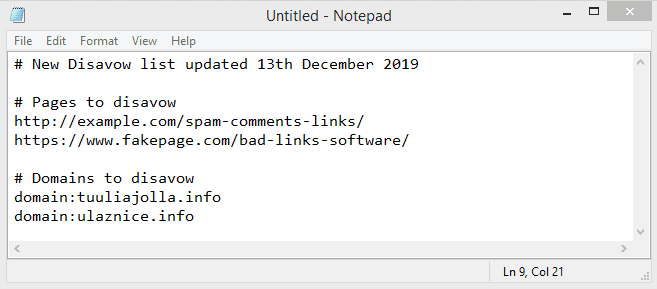 So, this is the way to create a correct disavow file with the help of Google Search Console. You can later submit this disavow file to Google. Let's now learn how to successfully submit disavow file to Google.
Submitting Disavow File to Google Using Disavow Tool
Once your disavow file is ready and you're sure enough about what you're going to do, you can submit the disavow file to Google using Disavow Tool.
I'm saying this because this is a very advance feature and should only use if you're pretty sure that you have a considerable number of spammy, artificial, or low-quality links pointing to your site, or the links have caused a manual action, or likely will cause a manual action, on your site.
To upload your list of webpages and domains to Google Disavow tool, just go to the Disavow Links Tool page, login with your google account, choose the website for which you're uploading the disavow file and then click "Disavow Links" button.
Now, click on Choose file and then choose the file you've created.
It can take a few weeks or sometimes months for Google to process the information that you upload. So, have some patience and wait for the magic. Here one thing to note down is that disavowed links will still be visible in the Links report but you can simply ignore them as they're already disavowed and cannot harm your website anymore.
That's all about finding and submitting the bad links to Google Disavow tool easily. If you're still confused about something, feel free to ask via comments.