If you're running a WordPress blog, you would know that many WordPress themes provide the option to add your website logo and favicon. But many times even after adding the site favicon via theme options, it doesn't show up in the browsers.
My WordPress theme also provide this option but even after adding the favicon via theme options, favicon was not showing to my visitors. This simply means that theme options is not the correct place or way to add favicon to your WordPress site. So, how to add the one?
Wait! I will guide you that how to prominently add a favicon to your WordPress site so that it will be visible to every visitor for different browsers.
Before that lets know a bit about Favicon. What is a favicon, what does it mean and why they are necessary?
What is a Website Favicon & its Importance?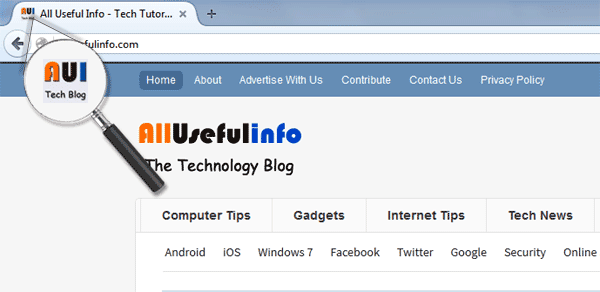 Favicon is the short form of "Favorite icon" which is also know as shortcut icon, website icon or bookmark icon. Favicons are commonly used to distinguish pages in a list of favorites (now commonly known as bookmarks).
The brain can process images much easier and quicker than words. When you're browsing through a list of favorites, you can quickly find the site you want by the accompanying favicon.
The same thing happens when an internet user has several tabs open; the favicon makes it easy to distinguish between different sites.
How to Add a Favicon to Your WordPress Site
Adding a favicon to WordPress site is the easiest task but still many people are misguiding due to adding it via theme options even if there's already a built in option in WordPress to add site favicon. And that's the professional method.
So, to add a favicon to your WordPress website, login to your WordPress admin area and navigate to Appearance > Customize. Now, click on Site Identity.
In the Site Identity section, you will see three options: Site Title, Tagline and Site Icon. You just need to upload the icon to Site Icon section and then save changes.
MORE WORDPRESS TIPS:
That's all. This site icon is commonly known as favicon, as I already mentioned. So, after saving changes, your site favicon will be seen to every visitors of your site and in every browser.
Still, if you're having any problem in adding favicon to your WordPress site or got some questions about favicons, feel free to let me know via comments below.