Images and videos drain extra data usage and also slow down the webpage loading that's many people prefer disabling them to view only the text for fast web browsing. A few days back, I have published an article about how to browse the Internet only in text mode in the Chrome browser (computer).
In this article, I'm going to tell you how to surf the Internet in text-only mode on your Android phone. However, this guide is not about the Chrome browser because I didn't find any feature in Chrome for Android to block images and videos. But, don't worry because here's another great Android browser that will do the trick.
I found many Android browsers that allow users to browse in text-only mode but only 2 of them are worth installing on the device.
Here're the Two Android Browsers to Surf Internet in Text Only Mode
Browsor is an Android web browser widely popular for lightning speed. Other than this it also has one of the great features for browsing the Internet in text-only mode.
So, if you wanna speed up your Internet browsing in Android and don't wanna lose your data usage in loading images and javascript, just turn off the images and JavaScript from settings that will automatically block all the images and javascript on the webpage.
To enable the Text-only mode in this Android browser, first of all, you need to open the webpage you would like to browse and then tap the button 'A' visible on every page you browse. It will show you site settings where you can easily enable or disable the text-only mode.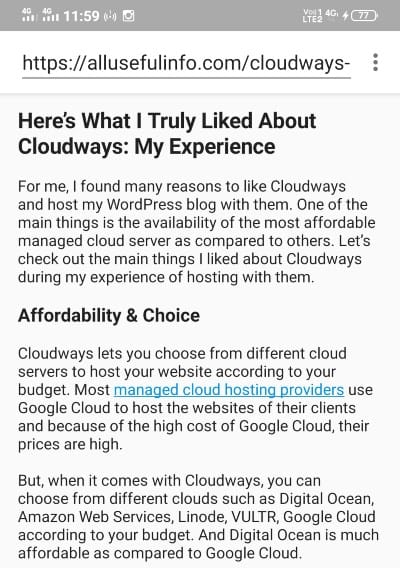 I'm mentioning it here because it aims to be a very fast web browser for Android. It is designed to be very simple to use and to load the webpage as fast as possible.
It comes with features like "Do not load image", "Load image with WiFi", "Turn on/off JavaScript", etc. If you enable Do not load image, it will block all the image files from webpages to display only text view to visitors. So, if you're crazy to read things without seeing the pictures or JavaScript, it might be a good browser for you.
A Suggestion For My Dear Readers
By using the above-mentioned browsers you can easily browse in the text-only mode on an Android phone without any hassle but you know it's your loss! Yes my friend, along with text, images are also very important to stay engaged with the content.
If you're reading any stuff where images are not that important, you can browse in text-only mode but according to you shouldn't miss images because they are important and that's why I never recommend using text-only mode for web browsing because you can miss lots of important stuff to see.