There may be plenty of reasons for why you want to enable text mode in your browser by blocking images and videos such as you might have a slow internet connection, you don't wanna waste your internet data in viewing videos and images or videos and images on web pages distract your mind from reading the stuff you were actually looking for. So, there may be several reasons for blocking images and videos from your browser. But, how? Here's how to block images and videos in your browser to view only the text. In fact you can turn your browser in text mode.
In this article, I will tell you about a Google Chrome browser extension that turns the browser window in text mode so that each webpage you'll browse only display all the text by blocking the images and videos.
The browser extension to block images and videos from webpages is know as Text Mode and can be install in your Chrome browser from Chrome Web Store.
MUST READ: Interesting & Useful Google Chrome Tips
Text Mode for Chrome: Block Images & Videos in Browser
However, there are many extensions available on Google Chrome Web Store to block images and Videos in the browser but this Text Mode extension is the better than others (according to me).
To install the Text Mode Chrome extension, visit THIS LINK and click on Add to Chrome button as shown in the following picture. And then again click on the Add button in popup to confirm the new extension.

Once it is added to your Chrome browser, it will start showing on your browser bookmark menu as "T" symbol. All you need to click on it to activate and then start visiting the webpages with text only support (because it will automatically block images and videos on each webpage you browse).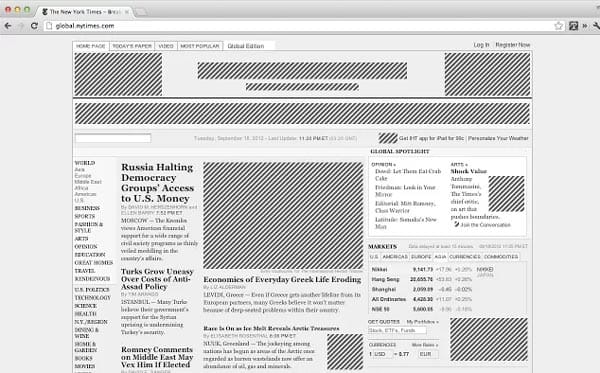 If you want to see images or videos on any website, just again click on it to deactivate its effect.
Features of Text Mode Chrome Extension
However, you would so far know what does this extension do. But, still for a quick view just have a look on its important features:
View text only pages
Images, video, flash, are never loaded
Color-free pages are easier on the eye
Reduce page load
One-click easy access
Removes 99% of the ads with no extra software
More Similar Extensions to Block Images and Videos
Other than this, there are lots of similar Google Chrome extensions available on Web Store to view only the text by blocking images and videos.
Here're some more extensions to enable text mode in your Chrome browser by blocking imaged and videos:
Block Image: It lets you prevent images and videos from loading. You can toggle blocking on/off by clicking the extension icon on the chrome toolbar.
Text-Only Mode: This extension allows viewing pages in "Text-Only" mode – preserving layout and colors, but removing all images and multimedia from the page.
READ ALSO: 5 Chrome Extensions For on Hover Image Zooming
That's all. By using any of the above mentioned extension you can block images and videos in your Chrome browser to view only text.