You would know that I started blogging in December 2012 and that was the time when I was very little familiar with blogging and even didn't know how to create an email address on own domain in cPanel that's why I was using my personal email hosted on Gmail for business purpose. But as time goes out, I created an email hosted on my own domain from cPanel but still never used it. But yesterday when I checked my cPanel inbox, what I found that my cPanel webmail inbox is full of spam mails that was around 3,000. I wanted to delete all of them but didn't know how can I do it. I even tried many times to delete all the emails at once but I was only able to delete the mails on the first page.
So, finally I decided to take help from my hosting provider regarding to delete all the emails or in bulk from cPanel inbox. And one of their representative told me the complete procedure for deleting all the emails (in bulk) from my self hosted email account on cPanel. Here I dictated the steps to delete all your emails from cPanel inbox at once.
Recommended Articles:
Here's How You Can Delete All Emails From cPanel Inbox
First of all, visit cPanel. For more cases, you can reach cPanel by going to yourdomain.com/cpanel. Just replace yourdomain.com with the domain you own. Now, log in with username and password.
In the cPanel, find the mail widget and click on Email Accounts icon as shown in the following picture.
Note: If you directly click on the Webmail Icon shown above, you'll be redirected to the default email account in which your username is prefix.
Now, in the Email Accounts page, look at the Account @ Domain section. Here you'll find your self hosted email address. At the right side of the email, click on More button and select Access webmail.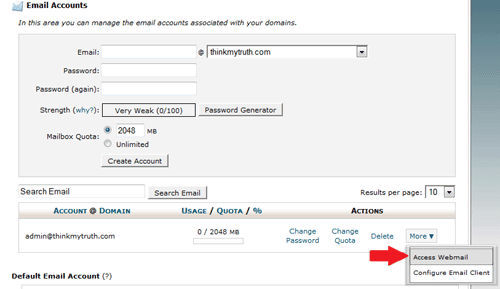 Quick Tip: To takeover all the above mentioned steps, you can directly access webmail by visiting yourdomain.com/webmail in your browser and then enter with your account login credentials. I hope it should work for you!
Next, after providing the account login credentials, you will reach to Webmail Main page. From here, you can read your mails either by using Horde, Roundcube or SquirrelMail. Mostly, I prefer SquirrelMail and sometimes Roundcube but for empty your inbox, Roundcube will be very easy and quick. So, click on Roundcube to delete all mails from cPanel inbox at once.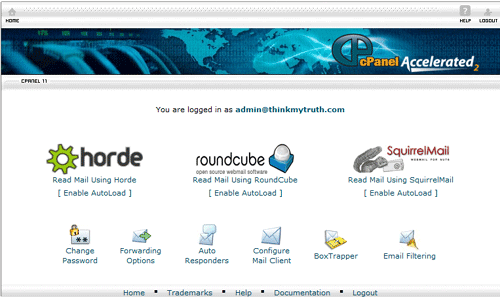 Next, in the Roundcube Inbox, look at the bottom of the page, click on Select and choose All to select overall messages in the inbox.
As soon as you click on All button, all the mails in your inbox will be selected. Now find the delete button at the upper most menu of the inbox. Click on Delete button to move all these mails to Trash folder.
More cPanel Tips:
As I told you, the above procedure will move all the inbox mails into Trash bin. So, similarly by selecting all the mails you can empty the Trash to keep your email account clean.