As we all know that Google, Twitter, Facebook, and Linkedin, all of them are the most popular, useful, and entertaining place. According to me, it is very necessary for everyone to have their account on all the above online places in this age of technology. But due to some reason if anybody wants to delete their account from Google, Facebook, Twitter, or Linkedin then it is very easy to get relief from your online presence.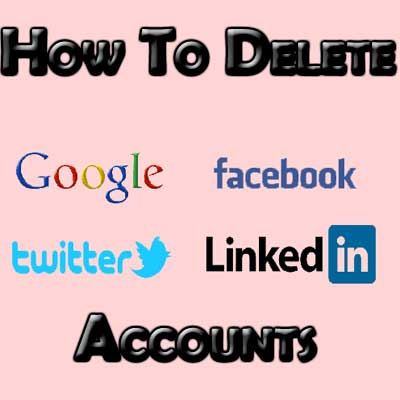 So, without wasting your busy time, I just move on to the steps performed to delete your online accounts. Have a look at the following tricks:
How To Delete All in One Google Account
It is very easy to delete your Google account. Google itself provides the facility to delete its account. Here are the easy steps –
Visit the page accounts.google.com and after logging into your account select the Data Tools tab as shown in the image.
Now, I pointed towards the Account Management Section. Here you will see the option to delete your Google+ profile & Features, option to delete Account and Data, and option to delete products.
So, if you choose the first option, your Google+ account will be deleted and on choosing the second option your whole Google account and it's data such as your purchased apps and more will be lost.
Read Also: Important Google URLs You Should Know About
How To Delete Twitter Account
Deleting of Twitter account is as easy as of Google. You just need to follow a few steps –
Go to www.tiwtter.com/settings/account and after signing into your account scroll down the screen to the bottom.
At the bottom of the screen, you'll see the link to Deactivate My Account. Click on it.
Now after opening the next page, click on the Deactivate button. Your account will be deleted.
How To Delete Facebook Account
As we all know and see that Facebook only discloses the option to deactivate your account not to delete permanently. By that option, you can only deactivate your Facebook account for some time. But guys, I've already published an article to delete your Facebook account permanently.
Here's That: How To Permanently Delete Your Facebook Account
So, friends go through the above link and follow the steps to delete your Facebook account.
How To Delete Linkedin Account
Now, I tell you about the deleting process of your Linkedin account. So, have a look at these empiric steps –
Go to www.linkedin.com/settings and sign in with your account.
Here Click on the Account button and you will find the link named Close Your Account.
As you click on Close Your Account, it will ask you the reason for deleting your account. So, give the reason and proceed.
Conclusion
Social networks are such a place where you can connect with your loving ones 24×7 even when you're much far from them. The people around the world use social networks for various purposes such as business promotions etc. But still many times we have to remove our account from such online places. If so, you can use the above methods to delete your Google, Facebook, Twitter, and Linkedin accounts but be careful about that because it may lead to the removal of all your online data.