However, it's one of the best qualities of Google Adsense to display relevant ads based on your content, still sometimes it may happen that Google is unable to display relevant ads to your visitors due to some reason and honestly many publishers face this problem, resulting the reduced clicks and earnings. So, to get rid of this problem, you can manually manage which Adsense ads to display on your website. Yea friend, you can easily manage which kind of Adsense ads to display on your blog or website from your Google Adsense account.
This article will be proven very important specially for those who don't wanna display any specific kind of sensitive ads on website. For example, if you're running any devotional website, you won't be liking to show dating or any other likewise ads on you website. So, with this guide, you will be able to allow or block ads of different genre on your website according to your choice.
How to Manage Which Adsense Ads to Display on Your Website
Here's how you can easily manage what kind of Adsense ads to display on your website. Or simply you will learn, how to allow or block different kind of ad categories on your website. And honestly all this can be done by using your Adsense account easily.
So, first of all login to your Adsense account and after logging in click on Allow & block ads tab on the upper menu navigation of the page. Here you will see General categories and Sensitive categories tabs.
If you wanna allow or block any Sensitive ad category from your website, then click on Selective categories tab otherwise click on General categories for allow or block any normal ad category.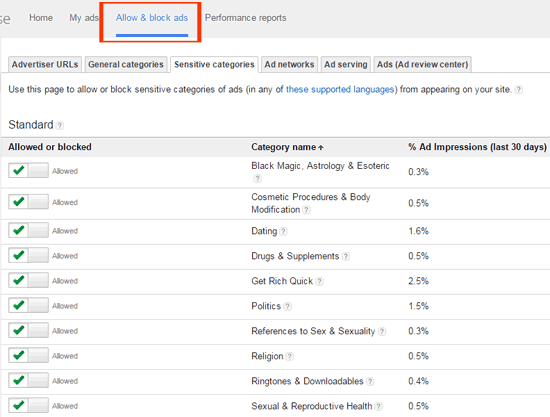 In the above image you can see some of the Sensitive ad categories. If you want to block any category, just click on On/Off button to block that category.
By this way, you can block number of categories from your website to show only some specific or relevant ads according to your niche. Isn't it a easy to manage your Adsense ads?
Further Reading:
I hope this article will help you manage your Adsense ads by allowing and blocking general and sensitive ad categories so that you can display ads on your website according to your choice.