Don't have enough time to manage your Facebook fan page to share posts time to time due to your busy schedule? So, no need to worry I'll tell you the fantastic trick by which you can schedule posts and status to be shared later on Facebook.
So, don't worry if you're busy, just schedule several posts at once with different time to be shared automatically time to time. So, here're the simple steps to learn, how to schedule posts on Facebook page.
Simple Steps To Schedule Facebook Page Posts
Now, here's the simple steps to learn – how to schedule Facebook page posts to be shared later:
Firstly, log in to your Facebook fan page and then start writing status of sharing link. Now, you'll see a Clock icon as shown in the following picture. Click on it to schedule your post.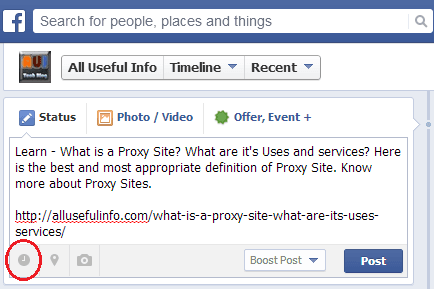 Now, select a date and time to schedule your post for that time and finally click on Schedule. It means on that date and time your post will automatically be shared on your page.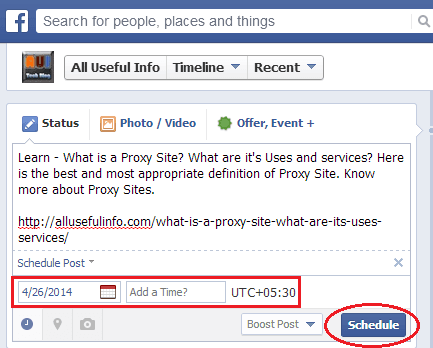 That's all guys, as you'll click on Schedule, your article will be scheduled to be shared on your selected time and date. It's very useful trick which I mostly use. I hope all the people who manages their Facebook fan pages might be found it useful. The important benefit of this facility which I mostly utilize is that at mid night when I go for sleep, I schedule some of the posts to be shared on the page whole night. It looks like you're always active on social networks.
Further Reading:
So, I think it's enough about scheduling posts on Facebook page and now I'm searching the way for scheduling posts on Facebook timeline as well. If you liked this article, then instant share to your social networks to spread it to other people as well.