Have you ever faced such a situation; you opened Google Maps to find a location in an unknown area and couldn't use it due to poor or no Internet connection? I am sure this has happened to many of you. But not anymore; here, I will tell you how you can download and use Google Maps offline.
Yes, you can use Google Maps offline on your smartphone. Maybe you are not aware of it, but it is possible. You can download the desired map on your smartphone and use it whenever you want to. Well, the steps to download Google Maps offline will be discussed in the article, so stay tuned here if you want to know how to use Google Maps offline.
Before You Use Google Maps Offline
There is no doubt that you can download and use Google Maps offline, but there's a catch. What's that? As you know, Google Maps has many features, like live location, various map types, live direction, and navigating to set location, but these features are accessible only when you are connected to an internet connection.
It means that in the downloaded version of Google Maps, you won't be able to use such features that need an internet connection to operate. In offline Google Maps, you can only explore the particular area's map that you downloaded. Also, you can search for the locations and find nearby locations of ATMs, Restaurants, Petrol Pumps, Hotels, Coffee shops, etc.
Apart from that, you will not be able to see the Satellite and Terrain view of Google Maps. Also, the Street View, Traffic Details, 3D View, Air Quality, and Wildfires features will not be available in offline Google Maps. Meanwhile, let you know that you will also need to update the downloaded map. How? We will know in the further section.
How to Use Google Maps Offline?
The first step to using Google Maps offline is to download the area's map from the app on your smartphone. And you can download multiple locations' maps; there is no limit to it so far. So, first, let's download the map and then see how you can use Google Maps offline. You have to follow the steps to download the map.
Download a Map from Google Maps
Step 1. Go to the Google Maps app on your device. If you don't have the app, you can download Google Maps and complete the login procedure.
Step 2. After opening the app, in the top right corner, tap on the profile image.
Step 3. Here you can see a dialogue box opened with multiple options. Look for the Offline Maps Option and click on it.
Step 4. A new page for Offline Maps will open here. You will find here all your downloaded maps and other controls of Offline Maps. To download the new map, you have to tap on the first option here, Select Your Own Map.
It may also recommend you download the Home map. By tapping on this option, you can download the area map that you marked as your home location in Google Maps.
Step 5. Google Maps will be opened here with a rectangular box. In the rectangle box, you have to select the area in which you want to download the map. After selecting the area, tap on the Download button.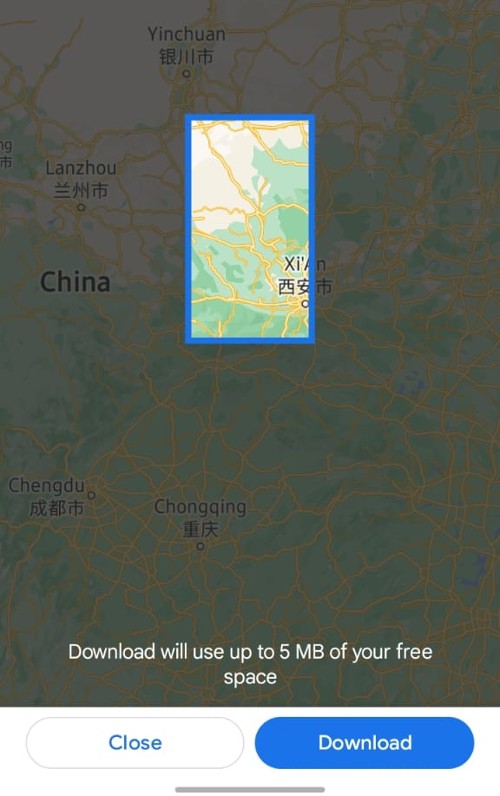 Step 6. As soon as you click on the download button, the process will start. Wait for a while.
How to Use Google Maps Offline After Download?
You have downloaded the map successfully. Now, you can explore the downloaded map whenever you are offline or online. Let's see how you can use it.
Step 1. Go to Google Maps, tap on your profile icon, and open the Offline Maps menu.
Step 2. Here you can see downloaded maps. Simply tap on the Map.
Step 3. Here can see the map with two options; Delete and Update. tap on the map.
Step 4. Here you can see; Google Maps of the area that you selected while downloading will be opened. Now, you can explore it.
How to Update Offline Google Maps?
As you can notice, there is an expiry date below the downloaded map. This expiry date is showing that the downloaded map will be useless if you don't update it before the mentioned date. So, it is important to update Google Maps to keep using it.
To update the offline Google Maps, go to the Offline Maps menu and tap on the downloaded map. Here you will see two options, Delete and Update. Simply choose the Update option. There is one more way to update the offline Google Maps. Go to the downloaded Maps, tap on the three dots in front of the map name, and then select the Update option.
Verdict Thoughts
As you see in the article, you can easily download and use Google Maps offline. It could be a very useful or even essential tool for those who travel a lot in areas with no or poor internet connection. With the help of offline Google Maps, they can easily explore the location even if they don't have an internet connection.
Moreover, it can also help to save the internet data of people who use Google Maps a lot. So, go and download Google Maps offline now by following the simple steps outlined in the article.