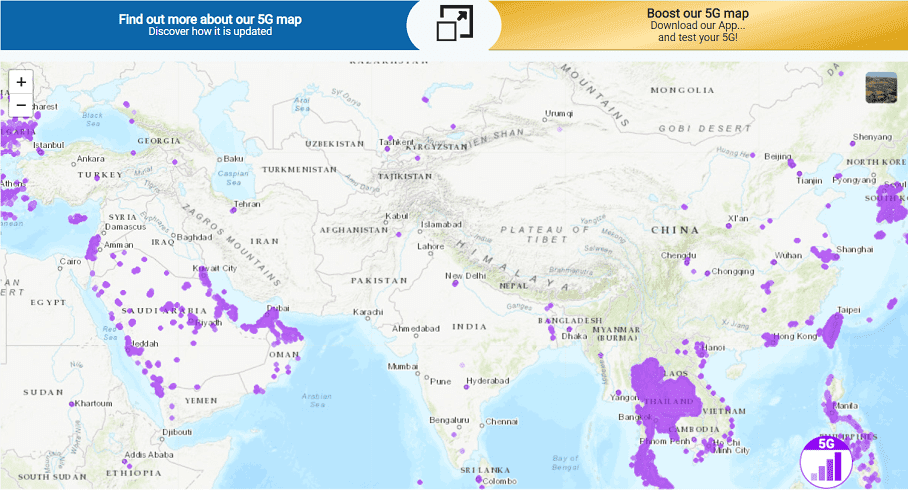 5G is in its early developing stage throughout the globe, except in a few countries like the USA, South Korea, Germany, etc. Even in India, 5G services are just launched a few days ago. So, if you are living in such a country or region where 5G services are not fully expanded, you might be facing issues in finding the nearby 5G network coverage area around your location.
In this article, I will share two websites to find 5G towers near your location and will guide you on how to find nearby 5G network coverage areas using these websites step by step.
You would know that 5G works a bit differently from 4G. Due to the high-frequency radio waves of 5G, the range of 5G networks may be less than 4G. And due to the low range of 5G networks, you might sometimes face difficulty to find the 5G coverage area, despite having 5G towers near your location. So, this article will be going to solve this problem forever.
How to Find Nearby 5G Network Coverage Area?
Including tower locator apps and websites, there are multiple ways to track nearby network towers. But all these methods are not useful for 5G tower tracking because most of them don't have the latest and updated data.
The best method you can use to find the nearest 5G network coverage area is the 5G coverage map. With these 5G coverage maps, you can easily get information about 5G networks available around the world.
There are some websites that provide 5G coverage maps. But, the exact and updated 5G coverage maps are from Ookla and NPERF. These 5G coverage maps are one of the finest ways to find nearby 5G network coverage areas around your location.
Wherever you live, you can track the nearest 5G network as these websites, probably, cover 5G services across the world. Let's get to know how can you find nearby 5G networks from these websites.
Find Nearby 5G Network Coverage Through Ookla
Ookla is one of the best and most famous network intelligence companies in the world. It has a huge user base across the globe. Based on that data, Ookla created a 5G coverage map.
Basically, Ookla 5G Map is a map of the world on which you can find 5G availability at any location worldwide. The best thing about Ookla 5G Map is it shows the number of 5G cells or towers in the location.
It works similarly to Google Maps, where you can zoom in and zoom out. First, you can see the numbers of available 5G networks in the country, and then as you zoom in, you will see the locations of all 5G towers separately. Nevertheless, you can follow the given steps to find nearby 5G network coverage with the help of Ookla.
Step 1. Visit the official website of Ookla.
Step 2. Scroll down to the footer menu and look for Ookla 5G Map. And then, tap on that. Or, you can directly visit the Ookla 5G Map. Wait a while. After some time, you will see a globe map on your screen. It is the Ookla 5G Map.
Step 3. To find out 5G in your area, recognize your country on the map, and zoom in on your city on the map. To see more in the specific location, zoom in on the map.
If you are on the desktop, you can see that all the shown 5G networks are available in three categories: Commercial, Limited, and Pre-release. You can also see different ones if you want.
According to the company, they regularly update the map with the latest 5G launch every week so that you will get the latest records.
Find Nearby 5G Network Coverage Through NPERF
The second website to help you find a 5G network near you is NPERF. It also has a 5G coverage map that shows you all the available 5G network coverage areas on the globe, like the Ookla 5G map.
But, it won't show the number of available 5G towers. You will be able to see the available 4G locations marked with pink dots. If you want to explore your nearby 5G network, follow the steps.
Step 1. Go to the website and visit the Network Coverage category.
Step 2. Here you have a 3G/4G/5G/ coverage map and a button, Discover our 5G coverage map, which will redirect you to only the 5G coverage map.
Either you can tap on that button or visit the NPERF 5G Map.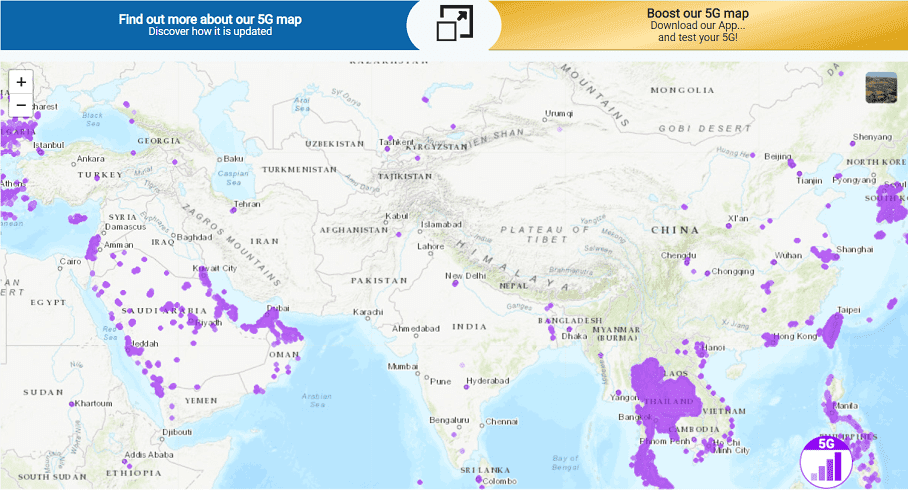 Step 3. The map is on your screen. Find your location on the map and see the 5G network coverage area near you.
According to our analysis, NPERF shows you the quickest updated 5G coverage map. If you are from a country where 5G was launched recently, you should use the NPERF 5G map to find out about nearby 5G networks.