Do you want to sell your car or your home? Feeling difficulty attracting customers for your new business? So, dear friends, don't worry about that. Here're a lot of sites that are made to place free classified ads. Whatever your requirement and wherever you live in India, you are able to post free classified ads.
Every person wants to advertise his/her business for free on a very large scale. You can also post classified ads on Newspapers, Magazines, and Posters but their scope is limited and you have to pay a charge for placing ads there. Posting classified ads on the Internet (on a website supporting ads) is the great idea for people want to post advertisement because those can get unlimited viewers for free by posting ads on free classified ads websites.
The top 10 free classified ad posting websites are the following:
It is an Indian site to post free classified ads. You can post any item by clicking on "Post Free Ad". It is most popular in India that's why I ranked it at the first position.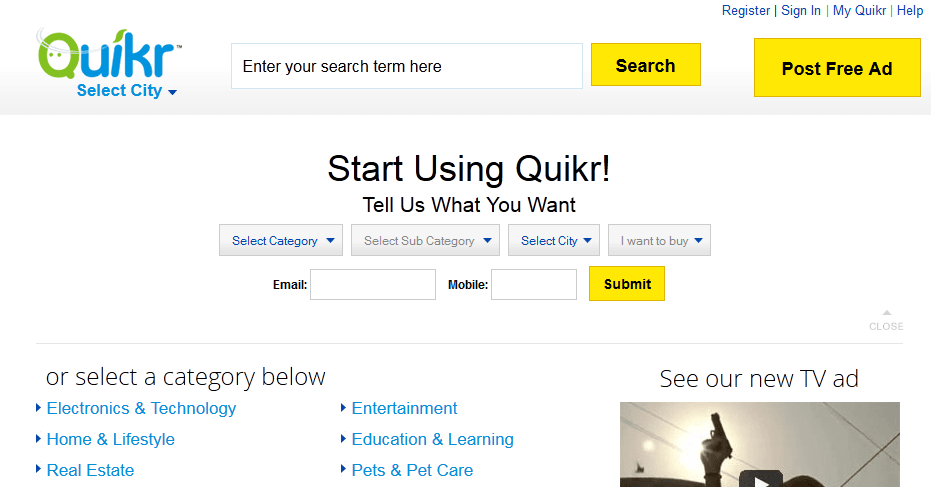 2. Adclassified.in
Adclassified is a free and premium classifieds website. It has something unique which makes it different from other classified websites. Adclassified approves free and premium ads instantly which means all your ads get instant approval regardless of whether it is a free or premium ad.
3. Oorgin.com
Oorgin.com is another free classified ad posting website where you can post free classified ads for Indian customers. It has different categories for ad posting such as Housing, Electronics, Jobs, Cars & Vehicles, and more.
The ease of use and being able to post ads in under a minute are examples of what I liked about these classifieds. They do have a wide range of categories covered throughout their site and your ads will go live immediately. Go ahead and try it today.
It is also an Indian site to place free classified ads for everything you want. It is a big community that has a great number of viewers. You can search for the desired ad by choosing the appropriate category.
It is a free Indian site to place free classified ads for sale something, for jobs, to find real estate, and more. We can say that it is the perfect alternative to the above two free ad posting websites.
Click.in is also a free classified ads website to post free ads in India. It provides you the facility to post and search free classifieds for real estate, jobs, automobiles, services, education, travels, and many more.
It is also an Indian website to post free classified ads. It's another popular platform to advertise your business. You can search and post ads by selecting an appropriate city in India.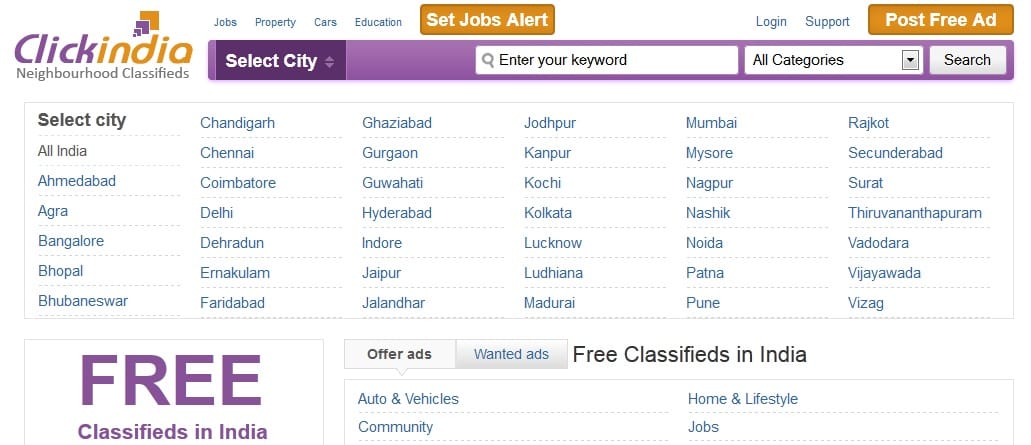 Check Out: Free Android Apps to Find Nearby Places
People want to Sell/Buy something, Deals, Home Needs and Office Needs then they can advertise here to show the ad to hundreds of viewers of Sulekha Classifieds.
It is another Indian website to post free classified ads in India. It has 3,72,878 classifieds in India that are increasing every day. It provides a very simple navigation to post your free ad.
Must See: How To Promote Your Business Free of Cost
That's it, guys. All of these sites are very high-ranked and most popular in India for posting free classified ads. So, if you liked this list of best websites to post free classified ads online in India, then share this article with social networks.