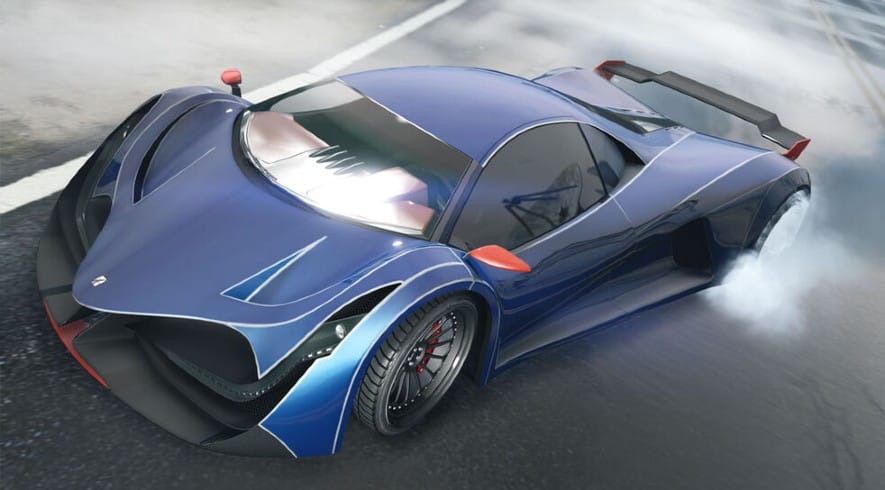 GTA has been an all-time popular gaming title. No gamer has passed that has not heard of this title at least. The first of their releases came out in 1997, titled "Grand Theft Auto" for the Gameboy color console. The game earned huge popularity a few years later with the release of Grand Theft Auto: Vice City, also simply known as GTA Vice City, in 2002.
This was one of the most popular titles of its time and paved the way for the success of the GTA franchise, with the latest release being Grand Theft Auto 5. As the name would suggest, the games revolve a lot around cars and other vehicles. Several missions require the use of specific vehicles. Some vehicles are super rare to find, with at times just one of each per game. There are simpler ones as well; ones you'd find on every street or parked next to the alley.
And that's what we're going to talk about today. We will highlight to you the best in cars that GTA has to offer in its latest release GTA 5. So without further ado let's get started on this.
1. X80 Proto
Based on a hyper racing car model of the Ferrari line, in particular the Ferrari F80 Concept, this is an exceptional sports car in the game. It falls amongst the faster vehicles in-game, with a stock speed of around 117 mph or 188.3 km/h thanks to its lightweight design. When compared after upgrading, however, vehicles such as the Pariah and Banshee 90R will overtake it in terms of speed.
The car is also somewhat susceptible to oversteer at top speeds, which makes it excellent for accelerating in straight lines but causes difficulty in turning. It appears as DLC and in the Enhanced Version for GTA Online, costing around $2.7 million.
2. Itali GTO
The Grotti Itali GTO is a lightweight sports car that's based on the Lamborghini Miura Roadster in terms of design. The name is a nod to the country Italy, the originating home of the Lamborghini. The car comes at a decent cost of $1.9 million, bringing with it good top speed and acceleration; making it perfect for a quick getaway car.
It is good in terms of handling too but might want to watch where you drive as this car isn't that good when it comes to durability. Collisions could deal a bad toll on it.
3. Tezeract
The Pegassi Tezeract is an electric hypercar priced at $2.8 million. Based strongly on the Lamborghini Terzo Millennio, the car takes some inspiration from the SRT Tomahawk and carries some resemblance to the X80 Proto in design. The car, when compared to other electric cars, has an impressive top speed rivaling those of other sports cars but slower on the initial acceleration, gradually rising.
The sleek, streamlined, light-weight, aerodynamic design helps the vehicle produce very little drag. The car is also excellent at ramming other vehicles around.
4. Coquette D10
A sports car based on the Chevrolet Corvette, the Invetero Coquette D10 packs very good acceleration and top speed. Coming for $1.5 million, the car offers good handling like a sports car. The sports car is durable enough to take a few good hits before it meets its doom.
Its design carries an aerodynamic profile, that makes it more aesthetically appealing and adds up to its features like a sports car.
5. Pariah
The Ocelot Pariah is another sports car on this list that you can get for a price of $1.4 million. Unlike no other, it is a top-tier sports car, possibly the best yet in the sports class. With engines that rival supercars, it brings extraordinarily high top speed and acceleration to the table.
Upon upgrading, it becomes one of the fastest cars that the game has to offer. It slightly lacks in handling and cornering, making it fall behind when sharp edges and curvy roads.
6. Furia
The Grotti Furia supercar is another Grotti car on the list that comes at a big price of $2.7 million. The car is mainly based on several models of high-performing Ferrari sports cars, in terms of design. Its appearance consists of a rather large but aerodynamic body. In terms of performance, it packs excellent accelerations paired off with great handling.
However, for a car with such a high price, it does lack in top speed at 122 mph, much slower than several similar other ones. Speaking of price, the car can be obtained for $2 million, if certain criteria are met in a certain mission.
7. Krieger
The Benefactor Krieger hypercar is one of the most expensive and fastest of the supercar class. It costs $2.8 million, making it not an easy one to buy. The car offers an extensive amount of customizability and is based on its real-world counterpart, Mercedes-AMG One. It features a sleek aerodynamic design with details of carbon-fiber-reinforced polymer all around.
A great all-rounder supercar, the Krieger packs good top speed, acceleration, handling, and traction, perfect for nearly all kinds of terrain. It only has a bit of a setback when it comes to obstacles or sudden brakes that might cause understeer. Though, the car is excellent for even terrains such as steep hills, thanks to its acceleration, drivetrain, and no traction loss.
8. Deveste Eight
The Principle Deveste Eight is an ultra hypercar that comes for $1.7 million. Based on the real-world counterpart, Devel Sixteen, the car packs a long build with a smooth design. It is complemented with some exotic styled curves on various ends. The car is known best for its excellent top speed that makes it the best choice for races, particularly those with fewer curves and sharp turns.
The car lags a bit in terms of traction, but its excellent performance in terms of straight-line speed makes it the second-fastest car in the Supers class, along with being the fourth fastest car in the game. The car may be exposed from the rear to gunfire, but overall packs a decent amount of durability.
9. Vagner
A prototype hypercar, the Debauche Vagner comes to the player as one of the fastest cars in the game. Sleek and lightweight in design, this car proves to be the optimum choice in many terms. It rivals the X80 Proto in terms of various statistics. The car packs great stability, being well suited for both fast and slow corners.
The car functions competitively well through straight tracks as well. It has a great top speed and decent acceleration that allow it to gain speed and move fast after taking a sharp turn or corner. The car's slight lack of acceleration, when compared to other cars, does not make it any less than one of the best cars available to players in the game.
These are some of the best cars that the game has to offer to players, most available at several points in the storyline of GTA 5, and all of them purchasable at GTA Online. Though they may sound pricey at first, considering collecting all that money could take quite a while, they are definitely worth the effort.