Losing your important data from the smartphone is one of the most painful situations in life, especially when you need that data urgently. You are left with no option than running to a data recovery specialist who charges a hefty amount to recover the lost/deleted data.
But, the advent of technology has made the things easier and simpler. Now, a number of tools have been made available that can help you in recovering the lost data. You need not be a software specialist to restore the lost data. One such software tool is PhoneRescue. Let's explore more about the software.
PhoneRescue – The Introduction
PhoneRescue is a wonderful data recovery solution by the Chinese Company iMobie. The company provides content management and maintenance utility software tools to its users.
Started in 2011, iMobie has over 10 million users around the globe. PhoneRescue is one of the most popular products launched by iMobie for iOS and Android devices. If ever your data is deleted accidentally or lost from the Android or iOS smartphone, you can recover it using this software.
Ultimate Features of PhoneRescue for Android/iOS
PhoneRescue is powerful software that can be used to recover the deleted/lost data from an iOS or Android device without much hassle. It is packed with some of the most exclusive features that are hard to find any other software of its type. Let's know about them.
Custom Built for Different Smartphones
It is more than just a general data recovery tool. It is tailored for different smartphones and adapts to the customized technologies based on specific tablet or phone ensuring greater success rate of data recovery.
You can download PhoneRescue for Sony, HTC, Samsung, Google, Huawei, LG, and Motorola devices as of now.
Save Personal Date
If you are a careless hunk then PhoneRescue is made for you. You can recover just anything that is lost or accidentally deleted from your phone. The messages, contacts, calendar, call logs, and other essential data can be recovered using this software.
Recover Photos & App Data
A user can easily recover the photos and other media files on the device that were lost or deleted. PhoneRescue will scan your phone storage will find every single file that is hidden or omitted.
You can even restore the buried data from the apps using this tool. The data from the apps that were deleted from the phone can also be recovered. Isn't it fantastic?
Lock Screen Removal
Forgot your phone lock? No problem! PhoneRescue can act your savior in such a situation. It helps you to remove the screen lock from your smartphone with just a single click. It supports most of the Android devices.
Blazing Fast Data Recovery
It is the smartest data recovery tool available for both Mac and Windows platform to recover lost/deleted data from iOS and Android devices. It gives you complete control over your phone's data.
PhoneRescue uses advanced data analysis & processing technologies to guarantee the industry-leading scanning and data recovery speed. It can scan 32GB data in less than a minute.
Multilingual
You will be amazed to know that PhoneRescue supports 7 different languages including English, Japanese, Arabic, Simplified Chinese, Spanish, German, and French.
Why PhoneRescue?
You might have learnt about some of the most incredible features of this tool and might have made up your mind to opt for it. Still, if you have a doubt, explore the reasons to go with this awesome tool for recovering the lost/deleted data from your iOS or Android device.
PhoneRescue believes that the data loss is temporary. Its strong belief has made it save over 10 million iOS and Android users from the data disasters. It can retrieve just anything that was ever lost or deleted from your device.
It is the only software in the world that can recover 31 types of data and files including messages, contacts, calendar, photos, and other irreplaceable essentials.
Its intuitive UI ensures that you have to work minimum for the data recovery. Just install this software on your computer and connect it to your smartphone. Now, you can recover the lost data with just a few clicks.
It uses world-class technologies for making the scan and letting the users to preview the data found instantly. It ensures lightning fast recovery.
PhoneRescue Setup for Android Device
Though PhoneRescue is available for both iOS and Android device on Mac and Windows platform, this guide lets you learn about the data recovery process using Android device on Windows platform.
Install PhoneRescue software on your Windows PC. Make sure that your system should have at least 512MB RAM and 100MB free space, and must be running on Windows XP or above version (32 or 64 bit).
Once the software gets installed, click on its icon to open the interface. Follow the instructions that appear on the dialog box that appears on the screen.
Now, connect your phone via USB to your computer and enable the USB Debugging mode on your phone. The software will recognize your device.
You can uncheck the boxes for which you don't want to run data recovery.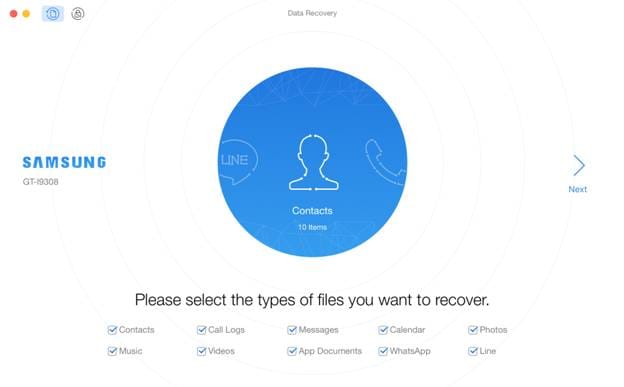 If you haven't rooted your device, the PhoneRescue software will root your device first so that the 'Deep Scan' option can be made available.
Once the rooting process is finished, 'Deep Scan' will start automatically. The software will now scan your device and will find the files that can be recovered. Wait patiently for some time and let the scan to be completed.
You can clearly see the data recovered by PhoneRescue on your device. It is your wish if you want to save the recovered files on your computer or phone.
Press download button to save the recovered data on the computer and press transfer button to send the recovered the data on the phone.
After you have made the choice, the recovered data will be saved.
Click on 'View Files' to find the location of the saved data. The recovery process is now completed. You can choose 'Start Over' to start the recovery again.
Pricing
PhoneRescue is affordable software and can be availed at different prices depending on your use and the type of license. It releases a new update in every two weeks and offers the longest money back guarantee.
If you don't like the performance of this software, you can ask for refund within 60 days of making the purchase.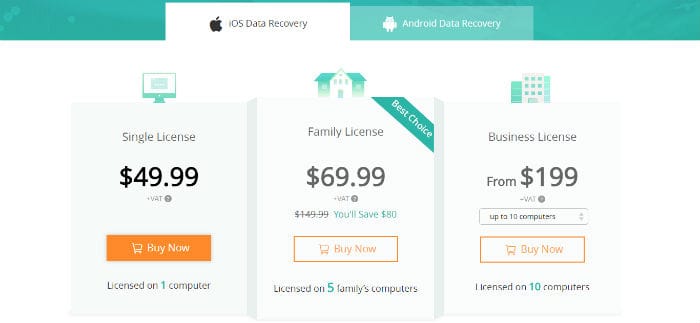 Over to You
PhoneRescue is the ultimate software that can be availed at an affordable price. It ensures the fast data recovery for iOS and Android device and comes with some extraordinary features.
You can seperately download PhoneRescue for iOS Data Recovery and Android Data Recovery. It can recover more than 31 types of data and files and that too at blazing fast speed.
PhoneRescue is available in 7 different languages. Moreover, it can help you to remove the screen lock if you have forgotten it. What else can you expect from data recovery software? Try it once and you will definitely not switch to any other software.