Hey guys, this article is specially written for those bloggers who often mistakenly delete their WordPress blog posts. So, if you've deleted the one or more articles of your WordPress blog, then you don't need to worry because this guide will teach you everything about how can you restore deleted or traced WordPress blog posts very simply.
I understand how irritating it is when one of our well-written articles get deleted by mistake. But, actually, you don't need to worry about it. In this resource, I've merged 4 different methods to restore deleted posts of WordPress blog or website.
I'm sure that all of them are very useful and helpful for all of you and especially for all the bloggers.
How to Restore Deleted WordPress Blog Posts
Hey guys, now look at the following methods to learn how can you restore your deleted blog posts easily. Select a method from these 4 which you find the best according to your need.
Recommended Posts:
Method #1: Check out WordPress Trash Folder
It's the primary and easiest way to recover your WordPress blog posts that you've deleted mistakenly. When you click on the Trash button, the post gets deleted and goes inside the Trash folder of WordPress and you'll be happy to know that you can easily restore the deleted post from Trash.
For this, navigate to All Posts > Trash in your WordPress admin panel and click on Restore link below the post title to restore the deleted content back to your database.
Method #2: Use Google Cache to Recover Deleted Post
Do you know that Google creates the cached copy of each indexed pages on their server? So, to implement this method you must be sure that your deleted blog article has been published by you and indexed by Google. If you've deleted an unpublished post, then the above-mentioned method may help you.
In case the above method is not working due to permanent deletion of the post and your blog post was indexed by Google, then you can restore it fro Google cached pages. For this visit the following URL:
https://webcache.googleusercontent.com/search?q=cache:example.com
Here, you just need to replace example.com with the URL of your deleted article or if you don't remember that URL then enter the blog's URL and find the article you've deleted. From here, you can easily get the content of your deleted WordPress blog post.
Method #3: Way Back Machine as an Alternative of Google Cache
You can also use the Way Back Machine as an alternative of Google Cache to restore your deleted blog posts. As of Google Cache, this method also requires the published articles to find the cache.
To use Wayback Machine for restoring your deleted posts, just visit it here and then enter the URL of the post you've deleted.
After entering the URL, you will find that how many numbers of times the machine saved your deleted post or page. You'll find here many calenders, so click on the recent calendar date onto screenshot is taken and the cached page or post will be disclosed in front of you.
Read Before You Leave:
Method #4: Take Advantage of FeedBurner to Recover Post
Yes, FeedBurner may also help you to restore your deleted WordPress blog posts. For this, a few conditions must be matched to recover the deleted post. Here they are:
The post you wanna restore must be published
Your Feeds must be customized to show full posts.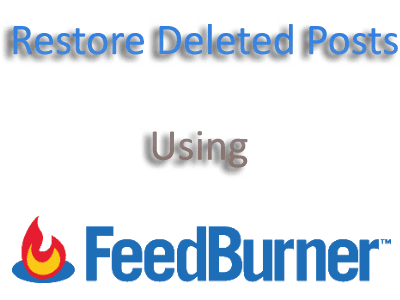 If your post was unpublished and didn't set up to show to full posts in an email subscription, then you can't restore them. But if your post was published and feeds were set to customized to show full posts, then you can easily retrieve the deleted post by visiting your FeedBurner URL of your blog feeds.