Fashion is something that everyone wants to follow in the lifestyle. Whether it's about clothing, accessories, makeup, and hairstyle everyone wants to keep it fashionable to look cool and attractive.
But, the most complicated thing is to stay aware of new and interesting fashion trends from all around the world. If you're a fashion enthusiast, you'll surely love to keep some really great fashion apps on your smartphone.
So, here I compiled a list of 10 best and free fashion apps for Android users through which you can stay updated on new styles, best combinations, and fashionable photos from all over the world, and many other things that will help to make your lifestyle even more fashionable.
Top 10 Free Android Apps For Fashion Enthusiasts
The apps listed below are specially selected for fashion enthusiasts and fashionistas to help them choose the best of fashion from all around the world.
1. Trendstop
This is a fashion tracker app, brings you the latest fashion coverage and trends on the go by Trendstop.com – the international fashion and lifestyle trend forecasting agency.
It lets you find out the daily global fashion trends and news to stay aware of what's new in womenswear, menswear, accessories, shoes, vintage, hair, and beauty trend categories, covering everything from the catwalk and high fashion to street style.
One of the interesting things about this app is that you can view high-quality photos and videos of major fashion collections from over 500 fashion designers.
2. MensXP
MensXP is India's largest lifestyle community for men. It's not only about fashion but also gives tips on relationships, fitness, health, grooming, culture and many other things.
It brings the latest fashion trends, style trends, celebrity interviews, style guides, and what the different Indian celebrities are wearing such as shoes, sneakers, and watches, etc.
The app is not only limited to clothing but also gives tips on many other things for men such as grooming including beards and shaving, celebrity grooming, hairstyle guides, relationship tips for men including breakup tips, marital tips, friendship tips, and more.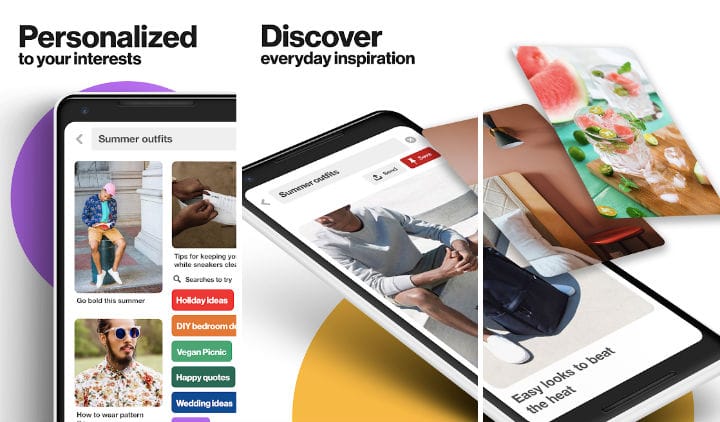 Pinterest is however a social network but it can be a great platform for fashion enthusiasts. Pinterest is a great platform full of creative ideas about fashion, fitness, home design concepts, and much more.
It's a great app to explore articles on trending and most recommended topics about lifestyle, cooking, health, wedding, fashion, and more.
With fitness tips, interesting DIY projects to try out, and tons of great fashion, style & beauty tips, Pinterest keeps all of your lifestyle inspiration in one place.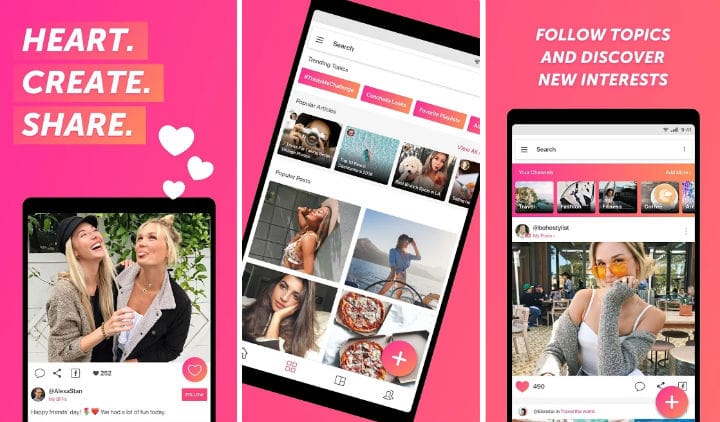 Similar to Pinterest, We Heart It is also a social platform where you can find the latest trends about fashion among youngsters and discover photos, videos, and articles from friends about beauty, fashion, photography, travel, music, and more.
You can create collections of the things you love to save them for later. You're free to upload photos, GIFs, and videos and write articles about topics you're interested in.
This is a over 10 years old platform with a wide community of style lovers and fashion enthusiasts, it might be a great app for you to discover new fashion trends and learn new things around.
5. Spoyl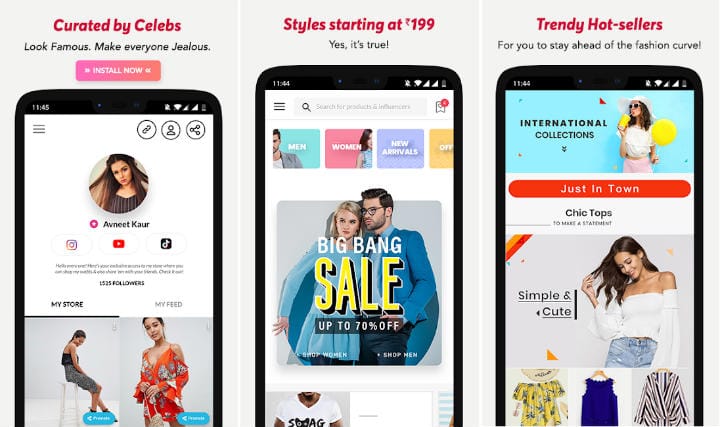 This is the best app if you want to access the stories of incredible fashion influencers about their hand-pick items available at 70-80% off. At Spoyl, you'll find that thousands of fashion designs and styles are added every week.
You can also join as an influencer on Spoyl and make money up to ₹1,00,000 per month. You just need to fill the application form, add your products, influence them and earn.
RELATED: Free Android Apps For Wedding Planning
6. Club Factory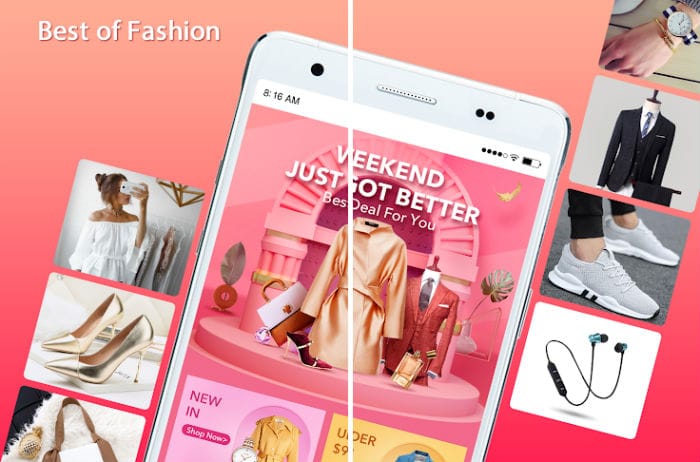 Club Factory is in fact an online shopping platform dedicated to fashion enthusiasts. It offers millions of all kinds of affordable & stylish products ranging from clothing and shoes to sports & fitness.
It brings the latest styles, a daily dose of fashion stories, fashion tips, fashion hacks, and lots more to keep you aware of what's in the trend.
7. SHEIN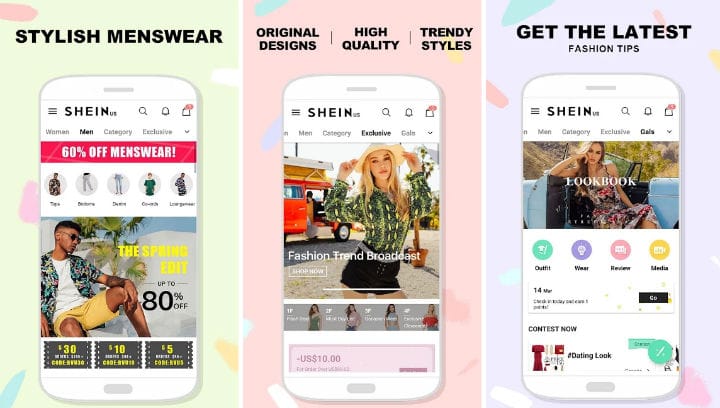 SHEIN is another affordable online shopping platform that focuses mainly on women's fashion. It helps to find the current fashion trends.
Install it on your Android device and discover the newest fashion looks and trends, get styling tips, reviews, ratings to inspire yourself, and shop for amazing products on the SHEIN app.
With all the categories like women's clothing, men's clothing, kids' clothing, shoes and accessories, and 20,000+ styles including dresses, blouses, swimwear, and T-shirts, SHEIN is a one-stop destination for fashionistas.
combyne is a community of bloggers and various style icons that share their pictures and outfits and connect with others. With combyne Android app, it becomes easy to discover the latest fashion trends and styles by following such style icons and bloggers.
The unique combyne outfit maker looks like your virtual dressing room to combine your personal outfits and find new looks that you can share with friends and followers.
It also lets you buy every item or outfit directly at over 30 partner shops and brands. You will be forwarded to your favorite item with a simple click and the item's link will be sent to you via email so you can shop it later.
Net-A-Porter is one of the essential women apps for fashion. With this app, you can see new fashion looks and share them with your friends over the web. Install this app on your Android and see the stylish looks of 400 of the world's leading fashion designers.
Net-A-Porter also offers you to read daily fashion news and watch exclusive videos on your device and so many features.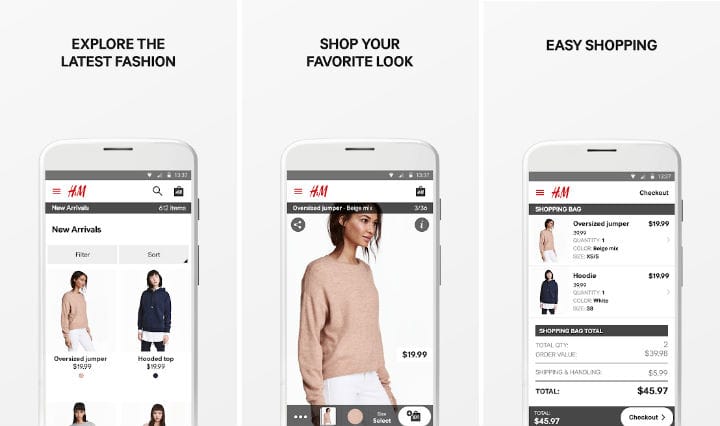 H&M is another fashion destination. It will let you find the latest and most interesting fashion trends anywhere, anytime.
It will also let you share your favorite items with your friends and family through Facebook, Twitter, and email.
READ ALSO: 6 Trusted Online Shopping Apps For iPhone
These are the top 10 Android apps for fashion enthusiasts. Some of these apps also let users directly shop for the items they like. So, if you like these fashion Android apps, do share this post with your friends on social media.