Home security is one of the most essential duties of all of us. So, this article is specially for those who ever concern about home security and safety. I'm going to compile a list of top 4 free Android apps for better home security. These apps also help you to provide safety and security to your home even you are out of home as well as out of city.
As some time ago, I published an article on 5 best home security gadgets as well, but these gadgets may be costly and therefore I decided to provide you any free and most reliable way to provide strong security to your home.
Top 4 Free Home Security Android Apps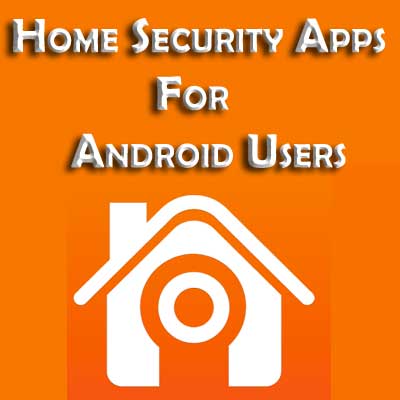 Now, without wasting time, I move on to the list of such useful and interesting apps for home security. All of them are absolutely free and easy to use. So, have a look on them:
Alarm.Com is a free Android app for home security management. With an Alarm.com-enabled security system, you can monitor and control your home or business in real-time and from anywhere. Alarm.com's interactive security, video monitoring, energy management, and home automation solutions give you instant awareness and remote control for the places you care about most.
This app has various remote features. Some of the are following:
Watch live video and recorded clips from your security cameras
Turn on or off lights
Set the ideal temperature
Search your complete system event history
And much more!
Beyond important emergency related events, you can also immediately know when:
Your kids get home from school
The housekeeper arrives or leaves
The garage door is left open
Your security system is disarmed (and who disarmed it)
Someone attempts to log into your account
And much more things you can track at your home with this free amazing app. To get the uninterrupted services of this app, you need a compatible system and an interactive Alarm.com service plan.
SimpliSafe is a free home security system app for Android users. You can monitor and control your SimpliSafe security system from anywhere in the world. With the SimpliSafe Home Security App, you can:
Lose the nagging worry about forgetting to arm your security system
Avoid damage from leaks and or floods, with flood sensor alerts right on your phone
Keep an eye on the babysitter, pet sitter, gardener, or house cleaner.
There are many more features it has. You can monitor your whole home from anywhere. But to do so, you need to subscribe its interactive monitoring plan.
Cox Home Security is a free Android app for monitoring the home from anywhere. You can remotely access your Cox Home Security system from anywhere you are. With the help of this app you can:
Arm and disarm your system
View your overall system and connectivity state
View individual zone states
View live camera feeds
View system event history by date and filtered event type
View and control connected thermostat heating and cooling settings
Control installed lighting devices
And many more features and facilities. But before installing this app, one thing you need to have in mind that this application's features may vary depending on the devices installed in your home.
XFINITY is another home security and home control solution. You can access your XFINITY system from anywhere. The XFINITY Home app provides remote security monitoring, device control and event history. You can see your kids get home from school, turn on your lights before you walk in the door and even adjust your thermostat – all from your mobile device.
It has various key features include:
Access to lights, cameras, thermostats and event history
Remote video monitoring
Remote arm & disarm
It is most necessary to have a XFINITY Home subscription and Comcast ID and password to use this app.
Read Also: Best Gadgets For Home Security
That's all guys! I hope you all like these apps a lot. These apps will definitely help you to protect your homes from thieves and provide a strong security and safety to your shelters.