Every PC user installs different antiviruses in their computers but ignore the Tune-Up software, even when a Tune-up software helps your PC to run perfectly. The Tune-up software also increase the speed of your computer and automatically fix some minor problems in your computer. So guys, it is very necessary to have Tune-up software along with Antivirus software in your computer. This article contains top 5 FREE Tune-up software to speed up your Windows 7 PC.
With the help of these tune-up software, you can increase the boot time of your PC as well and resolve some small disorders. So, come to the point, and view the list of free tuneup software I've compiled for you.
Best Tune-Up Software For Your Windows 7 PC
Here's a list of top 5 Free Tune-Up software for Windows 7 computer. Select a best one to download on your Windows 7 PC. Have a look on the list –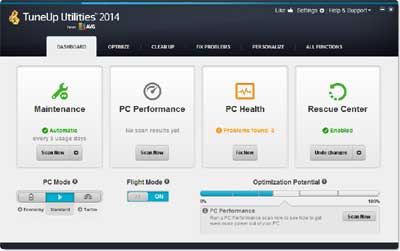 Tune-Up Utilities 2014 is a new and most rated Tune-Up software for PCs. As it is not completely free but still you can take a free trial for 15 days will all the features available in its original pack. You can get the unlimited full version of Tune-Up Utilities 2014 for only $49.
There are several new features in Tune-Up Utilities 2014 including Duplicate Finder, Windows 8.1 App Cleaner, Flight Mode, User Interface, Disk Cleaner, Automatic Cleaning Updates.
Tune-Up Utilities 2014 also uses some advanced performance optimizers to boost your PC's performance. Some of them are Startup Manager, Live Optimization, Performance Optimizer, and more. It is fully compatible with Windows XP, Vista, 7, and Windows 8.1.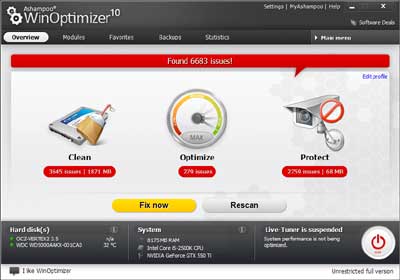 It is another virtual service technician to clean, optimize, and protect your PC. It is also not completely free, you can download the trial version of this Tune-Up software. If you assist with its free trial, you can buy the original pack of Ashampoo WinOptimizer 10. It is available for you for $39.99.
Some new features in Ashampoo WinOptimizer 10 are Duplicate Finder, Link Checker, Font Manager, Restore Point Manager, File Wiper, Drive Cleaner, Registry Optimizer, Internet Cleaner, etc.
Ashampoo WinOptimizer 10 uses Service Manager, StartUp Manager, Internet Tuner, Process Manager, and Uninstall Manager to improve your PC performance. It supports in a computer runs only on Windows XP, Vista, 7 and Windows 8 operating system.
iolo technologies innovates patented technology and award-winning software that repairs, optimizes, and protects computers and digital devices. System Mechanic 12.5 is the new and fantastic product of iolo. It speeds up your PC performance by fixing some minor problems.
You can download its free version from its official website. Its full original version is available only for $39.95 with various outstanding features including Live Boost, Stability Guard, Program Accelerator, Memory Mechanic, PC Cleanup, Startup Optimizer and more.
Its pro version is also available for $59.95 only but still you can download its free version for a limited period of time. System Mechanic 12.5 works with Windows XP, Vista, 7 and Windows 8. Its professional version is also optimized for Windows 8.1 operating system.
Norton Utilities is the fastest way to a faster PC. It is another Tune-Up Software that cleans up, tunes up, and speeds up your computer to help it run like new. It speeds up your PC startup, fixes common problems, repairs hard drive problems, and frees up hard drive space.
It has several features such as Duplicate File Finder, System Dashboard, Application Uninstaller, Speed Disk, Disk Doctor, Disk Cleaner, Registry Cleaner, Startup Manager, Service Manager, Smart Updates, and more.
To download its Free version, you need to sign in to Norton with your Email ID and Password. It's full and the original version is available in Rs. 2098.99. It works with Windows XP, Vista, 7 and now optimized for Windows 8 as well.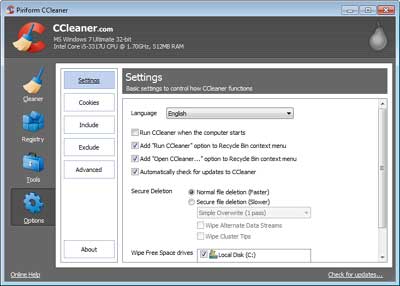 CCleaner is the best tool for cleaning your Windows PC. It protects your privacy online and makes your computer faster and more secure. It is very easy to use and a small-sized software. You can download its free version from its official website. Its original pro version is available in Rs. 1,637.23 only.
CCleaner is a system optimization, privacy, and cleaning tool. It removes unused files from your system – allowing Windows to run faster and freeing up valuable hard disk space. It also cleans traces of your online activities such as your Internet history. Additionally, it contains a fully featured registry cleaner.
CCleaner is fully tested and compatible with all the latest Windows Operating Systems. This includes both 32-bit and 64-bit versions of Windows XP, Vista, 7, and Windows 8.
Worth Reading:
Wrap Up
Most of people think that the Antivirus software is only the tool which makes your PC secure and boosts the performance, but in reality, the antivirus software is made up for limited tasks that is to provide security from viruses, etc and the best Tune-Up software is responsible for several tasks other than antivirus such as cleaning up the PC, speed up, Tune-up, boost the startup speed and more. So, it is very necessary to have a best Tune-Up software in your computer.