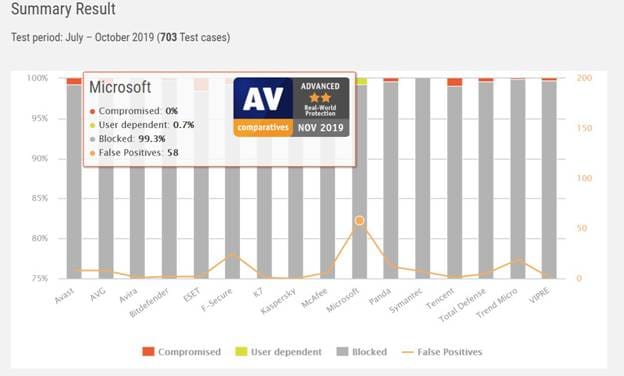 Are you looking for overall system protection?
There is a variety of antivirus and antimalware programs in the market, and Windows Defender is the official antivirus program from Windows.
But, it could not be obvious to decide if it's good enough or not.
We have examined multiple antivirus programs and compared them with Windows Defender.
Let's see how well it performs.
What is Windows Defender?
Windows is the most vulnerable operating system compared to macOS and Linux. The majority of malware attacks can affect your Windows PC.
Therefore Windows has to introduce a proper security system to protect our devices.
Enters Windows Defender.
In previous years, Windows used to provide it as a downloadable free anti-spyware program for Windows XP. Later it came preinstalled with Windows Vista and Windows 7. But, with the introduction of Windows 8, it has become a full-grown antivirus program replacing Microsoft Security Essential.
Talking about its threat protection, Windows Defender has seen much criticism. The reason being its previous versions have performed poorly in the AV-Test's results. But, Windows work hard to satisfy its customers, and as a result latest version of Windows Defender passes all the test and proves to save you from threats efficiently.
But there is still space for some improvement. Apart from providing threat protection, the Defender does not do well when it comes to other security features.
A dedicated antivirus company like Bitdefender takes note of every security measure you should have for your system. You can know better about the scarcities in its features by comparing Windows Defender and Bitdefender.
How Good Is Windows Defender?
If we look at Windows Defender in isolation, it looks reasonably good. But to see what it can and can't do, we need to compare it with various antivirus programs.
You might have used other antivirus programs like Bitdefender, McAfee, Kaspersky, and more like them in the past years. You might have even paid the right amount of money for them.
Fortunately, there are sites dedicated to performing recurring tests monthly on the frequently used antivirus programs. The latest test available in 2020 dates back to December 2019.
Let's check out what they got for us.
AV-Test
AV-Test recognizes as one of the best antivirus testing sites. It helps users make well-informed choices about what antivirus they should use. They use three factors using a scale from 0 to 6 to rank each antivirus, where 6 is the best. They test antivirus for protection, performance, and usability.
In December 2018, Windows Defender managed to score 6 for security and 5.5 for performance and usability. But in December 2019, it maintained its previous record and gained full marks in usability.
Out of 18 antivirus programs tested, only Norton Security, Kaspersky, and BullGuard managed to get full marks in all tests. Compared to that, Windows Defender stands on solid ground.
According to AV-Test, Windows Defender offers 100-percent protection against zero-day malware attacks.
There is an improvement in showing false alarms. False alarms or flags are when an antivirus confuses benign software as malicious. For perspective, last year, at the same time, Windows Defender showed seven false alarms; this year, it did only two. The performance is breathtaking, considering the industry standard is three false alarms.
There wasn't much room for improvement. But, Windows Defender still managed to improve anyhow. Now it ranks among the top antivirus programs.
AV-Comparatives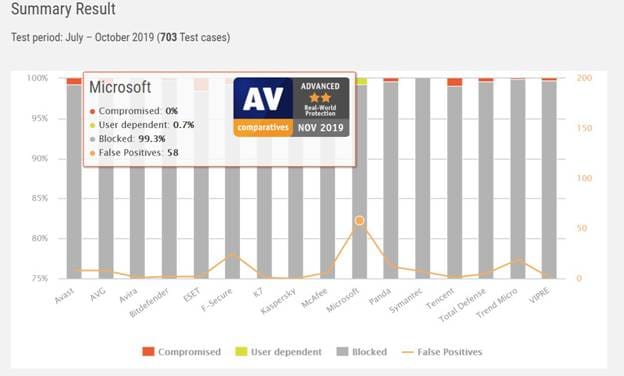 Looking at data from a single website might not be that insightful because each testing platform uses a slightly different approach. That said, AV-Comparatives is another popular website for antivirus testing.
In the real-world protection tests, Defender's results are outstanding. They show a substantial improvement, compared to the same results from last year. Windows Defender shows a 0% compromise in the July test. "Compromise" in AV-Comparatives' real-world protection test indicates a successful malware attack on the system ( 0 being none). This data includes 703 test cases.
Another factor to look at in this test is "User dependent." It shows the percentage of malware programs Windows Defender allowed to pass through its primary defense. However, the user gets a notification and thus the option to terminate the program. In the current test, the Defender is 0.7% user-dependent, which is a significant improvement from 3.6 % in April 2018.
As per AV-Test's requirements, Windows Defender worked hard to rectify its false positives. But, in AV-Comparatives' test, it showed 58 false positives, which is far more than any other antivirus from this test. Still, this is an improvement considering last year it flagged 106 positives.
Is Windows Defender Getting Better?
Both AV-Test and AV-Comparatives' data show vital improvement in Windows Defender's performance in the past years.
Windows Defender was at the bottom with a joint rating of 3.6/6 in October 2015. It used to lack in zero-day attacks by being only 95% effective. This index was at 80.5 % in September 2015. At that time, the industry standard used to be 97.2%. Today it provides 100% protection from zero-day attacks.
Windows Defender had a 3% compromise rate from July through November in 2016 in the AV-Comparatives test. Today it provides a rarely achieved 0% compromise.
What an improvement!
Final Verdict
Looking back a few years, no one would have suggested using Windows Defender to protect your PC. It came a long way to make its place in the top-ranking antivirus programs.
Still, it lacks some other essential security features which are available with other antivirus programs. Besides that, its impact on the PC's performance is quite noticeable.
In a nutshell, Windows Defender can indeed defend your PC from all kinds of security threats. Considering it comes free of cost, there is nothing to rant about it. If you still need to try other security features or want less impact on the system, you can opt-out and use your favorite antivirus.