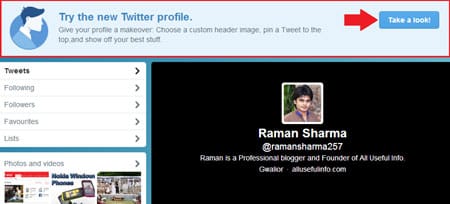 Did you notice that Twitter changed the look of user profiles? So, I tell you briefly. Twitter has noticed recently that 40% of Twitter users are inactive and most of them are giving time on Facebook. That's why Twitter decided to make some great changes to the social network.
Now, Twitter is offering its users to try a new profile. Yes, guys, Twitter didn't change the profile forcefully, instead, the company is offering the people to try it, and if liked then make it your permanent profile. So, you just need to give your profile a makeover that's why you can change it to a new one.
How To Get New Twitter Profile
It's very easy to change your old Twitter profile into a new one. To do so, you need to follow these simple and interesting steps –
Log in to your Twitter account and click on your Linked name to go to your profile. Here, you'll see a note on the header that Try the new Twitter profile. So, here Click on the Take a Look button (Seen Right Side of that note).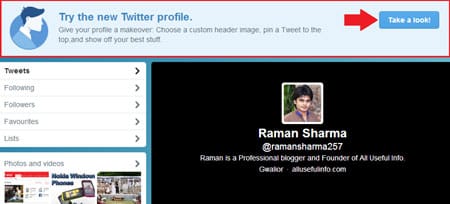 As you click on the Take a look button, your profile will be converted into the new one and Twitter will ask you to turn this profile on. So, if you want this new look, then Click on  Turn it on.
That's it. In case you don't want to enable this profile look, then just click on Not Now.
The thing that I loved the most is that Twitter allowed the users to pin any of their Tweets to the top to show off the best stuff of yours.
Twitter Tips:
Moreover, in order to attract more users, it is also in the news that Twitter may start chatting also on this micro-blogging site. So, guys if you've only interested in social networking, then stay connected with Twitter because it is going to become a complete social network from a microblogging place.