Privacy is very important for your personal and important files in PC or laptop but at your home you cannot provide that much security to your files because your brothers, sisters and other family members may sometimes use your PC any time without your permission. So, friends no worries, here is an other way to maintain privacy with your files and folders without having to lock them out. Yes, you can hide your important files & folders in your computer very easily.
In fact, there are many tricks to hide folders in Windows 7 but many of them would not work because of your laptop configuration or generation. The trick that I'm going to share with you is a universal method to hide folders in Windows 7. Actually, It is the built in facility provided with Windows to hide folders and files without having any trouble.
If you have made a folder hidden, no one can see that folder and even you can't see that file or folder. But if you know how to hide, you can easily make that visible anytime you need. So, guys! Look here to learn, how to hide folders in your Windows 7 computer:
STEP 1: First, Right Click on folder you want to hide and Click on Properties.
STEP 2: In "Properties" window Check Hidden option to assign this folder a hidden property. Click OK.
STEP 3: After this setting, you have to perform another task to hide those folders to whom you've assigned hidden property (in last step). So, now navigate to My Computer > Tools > Folder Options.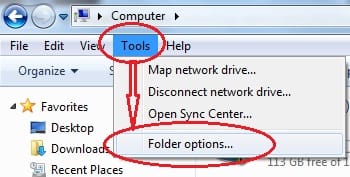 STEP 4: Next, Folder Options window will appear. Here you have to Click on View (Tab) and Check Don't Show Hidden Files, Folders and Drives.
That's All! Now, nobody will be able to see that hidden folder in your computer. If you want to see your folder and files back, check the button Show Hidden Files, Folders and Drives in the above image below the Don't show hidden files, folders and drives.