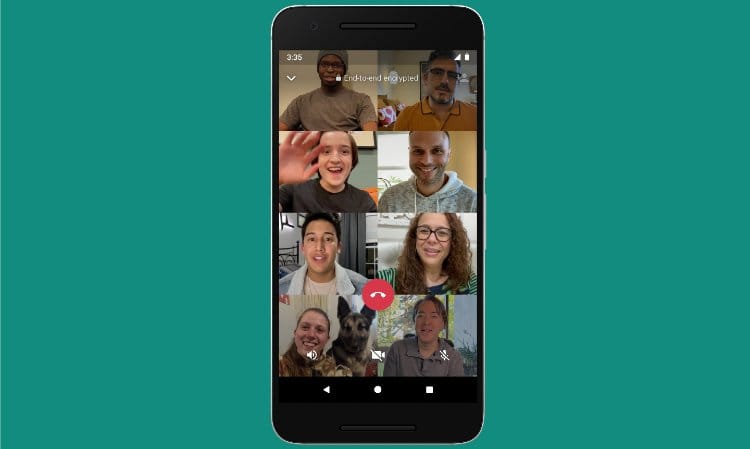 WhatsApp calling is one of the main alternatives to ordinary phone calling and whether it's voice call or video call most people are now used to do it through WhatsApp.
Till now, it was only 4 participants permitted for group WhatsApp calling but now this limit has extended to 8 participants. Now, users will be allowed to join up to 8 participants in a group call whether it's a voice call or video call.
WhatsApp's parent firm Facebook in a tweet clearly mentioned that they're expanding WhatsApp group video and voice calls to allow up to 8 people in a group call.
We're expanding @WhatsApp group video and voice calls to allow up to 8 people. pic.twitter.com/6efqB3rFyv

— Facebook (@Facebook) April 24, 2020
This is truly a very exciting and interesting news for everyone who're getting bored during the lockdown and looking for more sophisticated mediums to connect with friends and family members. I'm sure this extension of group calling limit up to 8 people will definitely make WhatsApp even more popular among those who're distanced from friends and family due to the lockdown.
Mark Zuckerberg, CEO of Facebook wrote in a post, "More than 700 million daily actives use WhatsApp and Messenger for calling. In many countries, calling has doubled since the Covid-19 outbreak began. To help you stay connected with your whole family and groups of friends, we're doubling the number of people who can participate in a group video call from 4 to 8 on WhatsApp."
WhatsApp's head Will Cathcart told in a tweet that this increase of group calling limit will be rolling out to all users on Android and iPhone within next week. It means, the next WhatsApp update will bring this change for all the users.
In the Facebook post of Mark Zuckerberg, there many other features announced of other Facebook products such as Facebook Messenger. He in the post announced to launch AI-powered effects like 360 virtual backgrounds on Messenger, virtual dates on Facebook Dating, and expanding Messenger Kids to more than 70 countries and territories.
He added, "I'm also excited to announce Messenger Rooms — group video chat designed with social interactions in mind. You can start a room for any activity — whether you're hosting celebrations, game nights, book clubs, or just have some time to hang out — send people a link, and they can drop in and hang out with you even if they're not on Facebook."
Well, that's all about it. I'm sure you're pleased to know about these features and specially the limit extend of group calls in WhatsApp. If you think that your friends and relatives will also be excited to know this news, do share this post with them. Good luck.