Technology giants like Google, Apple, Facebook, Microsoft, etc., always recommended their users to enable two-step verification for additional security to their accounts. Recently, Whatsapp, the most popular instant messaging app, also introduced two-step verification for their users. If you're still not enabled the two-step verification on your WhatsApp account, then you can follow this simple guide to do the same.
This update brings in security against a recent hack where if your phone is hijacked somehow, then your WhatsApp account would be available to the hackers, which means they can freely access your private messages and conversation. The two-step Verification requires setting up a six-digit passcode and an optional recovery email address.
The two-step verification is not compulsory but is recommended to secure your WhatsApp account. The company assures the users that once the two-step verification is enabled, you will need to enter the six-digit password created by the user if the user tries to install the WhatsApp on any other smartphone using the same number or try to re-verify the phone number.
Must Read: How to Use Two WhatsApp Accounts on a Mobile Phone
How to Activate Two-Step Verification for WhatsApp?
Earlier, the feature was only available in beta versions but, recently it is launched for the general public. To get it on your WhatsApp account right away, you need to update your WhatsApp to the latest version and follow these simple steps:
Open WhatsApp and navigate to Settings > Account.
In Account, click on Two-step verification and then touch the Enable button.
You'll then be asked to create a new six-digit passcode.
Confirm the passcode by re-entering it.
That's all, the two-step verification is now enabled on your WhatsApp account. At the final screen, as shown below, Whatsapp will also ask you to provide your email address, and this step is optional.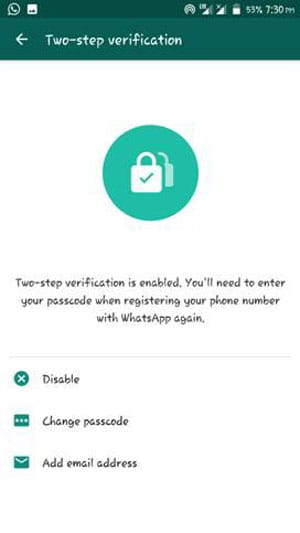 In the optional last step, WhatsApp prompts you to provide your email address to link with your WhatsApp account. This email will be used as a recovery email. Whatsapp will send the link to disable two-step verification to the email in case if the user forgets the passcode.
To help you remember the two-step verification passcode, WhatsApp will periodically ask you to enter your passcode to access WhatsApp.
Even after enabling the two-step verification, you can also enter your email in the setting for recovery purposes. It will help to recover your account in case if you forget your passcode and it will help you to safeguard your account.
According to WhatsApp's FAQ page, WhatsApp will not verify the provided email address to confirm its accuracy. They say to provide an accurate email address so that you won't get locked out of your account if you forget the passcode.
If you forget your six-digit passcode, WhatsApp won't allow re-verifying your account within seven days of last using WhatsApp. After these seven days, you can re-verify and start using WhatsApp again, but all the messages you will receive in these seven days will get deleted. If you verify your account after 30 days of last using WhatsApp, your account will get deleted, and a new one will get created upon successful re-verification.
Read Also: How to Logout of WhatsApp Messenger in Android?
Tips for Creating a Passcode
When you're creating a new passcode for WhatsApp, you need to make it hard to guess. For example, six digits from your phone number would be a terrible idea just like using your date of birth as your passcode.
If you have a password manager, then you can just use a random passcode and save it in your passcode manager, so you will not forget it.
Do share your thoughts if this latest WhatsApp update is going to make your privacy more secure or not. Let me know in the comment section below. Cheers!
Editor's Note: This article was published in February 2017 but updated last in July 2021 for some required modifications in content.