This article will confirm a case from your mind that is it possible to logout of WhatsApp messenger in Android or not. WhatsApp is a widely popular messenger owned by Facebook and most of you might be using it for a long period of time, me too. But yesterday, I faced a great problem when my bro asked for my smartphone for a day but I hesitated because I didn't want to make him read my WhatsApp messages. So, finally, I had to say no to him!
So, guys in this article I will clear the fact from your mind that is it possible to logout of WhatsApp messenger or not. If possible, then how can you do so.
Is it Possible to Logout of WhatsApp on Android?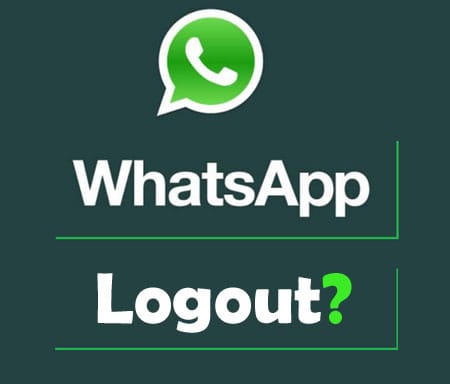 Absolutely no! There is no option provided in WhatsApp to log it out. It is the worst drawback of WhatsApp messenger. So, if somebody is making you fool by providing the fake trick to log out of WhatsApp messenger, beware of that because there is actually no option provided by it.
However, you can only turn it off by either uninstalling it or deleting your account. So, if somebody is asking for your phone and you don't wanna give due to active WhatsApp, then I recommend you to uninstall your WhatsApp from your device by previously backing it up.
Must Read: How to Uninstall Android Apps From Android Device
Another way to turn off WhatsApp on your Android phone is by force stopping it from the application manager. For this, Go to Settings > Application Manager and look inside the Running or All tabs, click on WhatsApp and then click on Force Stop. By doing so, WhatsApp will be temporarily disabled. Anytime when you click on the WhatsApp icon on the menu, it will be restarted again.
So, How Can I Keep WhatsApp Messages Secure?
As I confirmed that there is no option provided in WhatsApp messenger to logout. But still, every problem in the world has a solution. So, don't worry if you can't log out of WhatsApp messenger because you can lock it with a password or pattern that's why nobody can see your personal messages without your permission. However, this can also be done by using an external Android app available on Google Play.
For your information, there are numerous Android apps are available on Google to play to lock and protect your WhatsApp messenger, Facebook messenger, mobile messages, and others. So, you'll like to know about the App Lock Android security app to lock your WhatsApp very easily with a pattern or a PIN.
Other than this, there are many Apps locking Android apps available on Google Play. But, if you use the above mentioned App Lock, then you won't need to wander for any other app like that.
Read Also: How to Hide Last Seen Feature on WhatsApp
So, guys, however, you can't logout of WhatsApp messenger on your Android smartphone but still, you can easily restrict anybody to see your WhatsApp messages by providing the application lock.