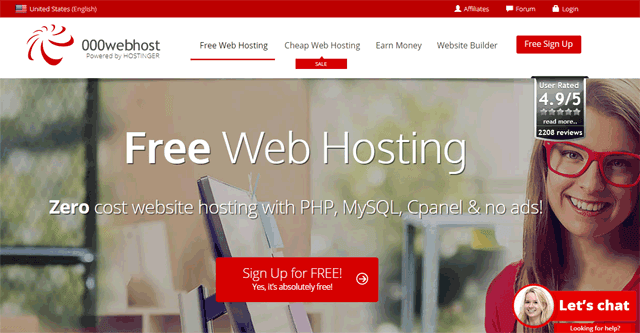 The most important part of starting a website is to host it. But, when it comes to start a new website, most probably you're not willing to spend much on web hosting. And it sometimes takes too much time to find an affordable web hosting company with quite good features.
But, what if I say there's a great web hosting company available which lets you host your website for absolutely FREE. And the best thing is that it comes with PHP, MySQL, cPanel and all this without throwing ads.
Guys, here I'm going to let you know about 000WebHost.com, which is a zero cost website hosting company with attractive features and truly you don't even need to share your credit card details at all.
Why 000WebHost.com? Here're the Best Reasons!
There're many important factors to consider while choosing a good web hosting company such as technical support options, customer reviews, pricing and more.
So, with keeping such factors in mind, I am figuring out if the 000WebHost.com is a good web host for your website or not. Why you should host your new site with 000WebHost.com? Here're the best reasons!
$0.00 Web Host
I already told that 000WebHost is a zero cost website hosting company and it's one of the biggest reasons to consider it as your web host for your new website.
There're no hidden costs and no restrictive terms. It's a forever free web hosting that doesn't even require your card details. But, of course you can upgrade it to premium for extended features.
Features Like cPanel, PHP & MySQL
You'll get the premium features like cPanel, PHP & MySQL for absolutely free of cost. So, the 000WebHost lets you setup your new website with such amazing features without investing a single penny in hosting.
cPanel is one of the easiest and popular user interface that makes most of the tasks easy such as installing WordPress, setting up email, setting up FTP accounts, managing your database and many more. So, the best thing is that it also comes with your free hosting package.
The Easy-To-Use Free Website Builder
The free hosting package at 000WebHost also comes with a Free Website Builder that claims to be the easiest to use website builder in the market.
It comes with hundreds of professionally designed templates to make your website look attractive and it also has options to create subpages, gallery, contact forms etc.
Dedicated Disk Space & Bandwidth
It's free doesn't mean you'll get poor performance. It's growth oriented web hosting for your website that comes with dedicated slice of disk space and bandwidth.
Not only this, but each free hosting account gets the latest PHP and MySQL versions available for best performance.
RELATED: 6 Tips To Pick Cost-Effective WordPress Hosting
So, Are You Ready?
I think these are the best reasons for why you should start your new website with 000WebHost.com. The best thing about it is its 100% free of cost service with quality features. There're no hidden costs and no restrictive terms.
By signing up for 000WebHost's free account, you'll be getting lightning fast speed, maximum reliability and fanatical user support as claimed by the company.
According to the described features and qualities of 000WebHost.com, I can say that it's much better than some well known paid hosting services. So, are you ready to try it?