So, you want to run Android apps on your Windows 7 or Windows 8 computer. Guys, come with me and read this article. Here, you'll find top Android emulators for Windows PC that are free of cost and will help you to run Android apps on PC very easily.
In simple language, Android emulators enable computer device to run Android apps without any hassle. So, get ready to know about these free Android emulators.
Best & Free Android Emulators For Windows 7/8
Now, look at the following emulators to run Android on Windows platform:
1. Bluestacks Android Emulator for Windows & MAC
BlueStacks is a software company that produces a most popular software product which is known as BlueStacks App Player. This product is designed to enable Android applications to run on Windows PCs and Macintosh computers.
BlueStacks App Player is a fantastic software which will turn your computer or laptop into an Android device. I prefer you to read this article for downloading and installing this software.
Once Bluestacks is installed, open it in your PC and search for apps in the search bar. Now you can install any Android apps from Google Play by logging with your Google account.
2. Android x86 For Windows XP, Vista, 7 & 8
It is a great Android emulator to run Android apps and games on Windows XP, Vista, Windows 7 and 8 platform for free. When you go for downloading the emulator, it may ask for donation. It's depend of you that you want to donate or not.
It is an unofficial initiative to port Google's Android mobile operating system to run on devices powered by AMD and Intel X86 processors. To download this software on your PC, visit www.android-x86.org and download it.
3. Andy Android Emulator for Windows & MAC
Andy is the best alternative to Bluestacks App Player. It is also free of cost. As of Bluestacks, it also turns your desktop into a virtual machine to run Android apps and games into your desktop.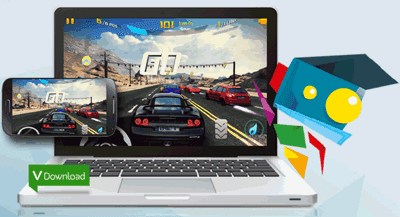 It also provides users with unlimited storage capacity, PC and Mac compatibility, and the freedom to play the most popular mobile games on a desktop. Download Andy Emulator from here.
4. Windroy Android Emulator for Windows Platform
Windroy is another Android emulator for Windows systems that runs Android apps and games on PC using Windows Kernel. It means it doesn't use any virtual box or machine to run apps.
This emulator works on a real machine that's why it's fast. It keeps full Android capabilities. Using this emulator, you can run all Android apps, games including 3D games.
Further Reading:
Overview
From all of the above Android emulators for the Windows platform, I really loved Bluestacks app player. But it's partially free, means after installing, it may ask for paying $2/month unless you've to install 1 sponsored apps per day for using it free.
On the other hand, Andy Emulator is my other choice that is too good. Moreover, you select the best one for you by reading this post.