Before telling you about the Bluestacks App Player, lets know about the producer of Bluestacks App Player i,e Bluestacks, a Silicon Valley based mobile company. Bluestacks is a software company that produces the Bluestacks App Player and GameTop. These are the two very popular products produced by Bluestacks.
What is Bluestacks App Player
Now, guys let me tell you about Bluestacks App Player. BlueStacks App Player is a fantastic software which will turn your computer or laptop into an Android device. Isn't it very interesting thing! Yes friends, I also found it very interesting and amazing when I used it first time on my laptop.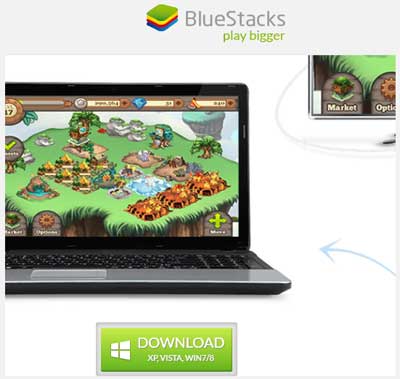 You won't believe that I successfully turned my laptop into a Android device by using this software. Honestly, this software doesn't turn the Windows or Mac operating system in Android but it uses a virtual Window over Windows to run Android on your PC and you can anytime navigate between Windows and Android. So, whenever  you open Bluestacks App Player on your PC, it will let you experience full Android environment.
Pricing
For a few months ago, it was completely free to use but now after installing the software you can use it free (or not) for a few days and after that it will ask you to pay $2/month. Additionally, if you still want to use it free, it will force you to install its one sponsored app everyday.
Is it Safe to Use?
Bluestacks is an emulator to run Android apps and game on your Windows or Mac devices. It's not a virus or anything else. From my side, it is completely risk free and you can use it freely. However, Bluestacks can enable you sync information from your Android phone to the devices on to your are using Bluestacks. So, you should be careful about that the install Bluestacks only on the device you own.
I not only told this on my using experience, I contacted with most of my friends who are the regular user of Bluestacks App Player. Moreover, you can read the privacy policy of Bluestacks for more assistance.
Recommended Posts:
How to Download Bluestacks App Player
So, finally if you find everything is OK about the Bluestacks App Player, then you can visit its official website to download it on your Windows or Mac computer. Even if you're feeling difficulty to download it on your PC, read out our guide to download Bluestacks App Player.