If you're a regular user of Windows 7 computer, then this article will be proven helpful for you. Because here, I listed 6 most beneficial and useful tips for your Windows 7 PC.
As we know that Windows 7 is more popular operating system than all the other versions of Microsoft Windows. That's why I decided to compile some useful tips of Windows 7 for all the Windows 7 users.
Useful Tips For Your Windows 7 Computer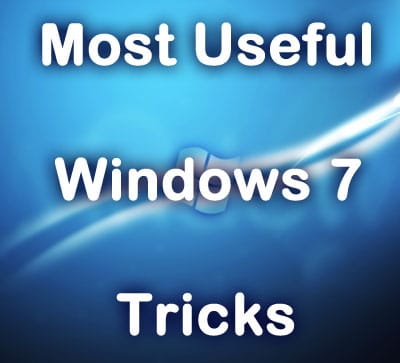 So, are you really eager to know about these tips? Let me tell you that these are not much new or clever tricks, instead these are very simple but most of you wouldn't know about them-
1. Taskbar Location
We all know that where the taskbar is available almost every version of Microsoft Windows OS including Windows 7. But do you know that you can adjust its location in the Window desktop?
Yes friends, if you want to move your taskbar, then just click and hold it and slide it to left, right or up according to your comfort. If you're habituated to Mac PC then you can move it top.
Before moving the takbar, you should confirm that it is not locked because if the taskbar is locked, then you will have to unlock it. So, to unlock the taskbar, Right click on the taskbar and uncheck Lock the taskbar option.
[su_note note_color="#ffffff" text_color="#000000″ radius="1″]RECOMMEDED: Essential Taskbar Shortcuts for Windows 7 Users[/su_note]
2. Windows Speech Recognition
Windows Speech Recognition is a feature available in Windows computers. With the help of this feature, you can control your PC with the help of your voice. It means, your computer will work whatever you'll say it to do.
Actually, I've previously posted about Windows Speech Recognition. You can learn here: how to control your Windows 7 PC with your voice.
3. Add Run Command in Start Menu
Yes guys, you all know about Run box and surely you'll have used it. But if you have to use it daily or hourly, then you can add Run command to Start menu permanently.
It will save your time as well as make it easy to use Run command over ans over again. So, to add Run in Start menu, you need to follow the given steps –
Type in Menu search – Customize start menu and click on it when it found or just hit enter.
Now, click on Customize.
Here, Check the Run Command box and Click on OK to save the settings.
By following the above steps, the Run command will be added in Start menu. I've also published to two tricks to add Run command in start menu.
4. Use On-Screen Keyboard in Windows 7
On-Screen keyboard is a virtual keyboard. It is actually used when your physical keyboard stop working or there's something wrong with your physical keyboard. So, let me know that how to use on screen keyboard in Windows 7.
To open the on screen keyboard in Windows 7, you need to go to Start menu and type "osk" in search field and hit Enter. Your on screen keyboard will be in front of you.
For more explained guide, you can read our previously article- how to use on screen keyboard in Windows 7.
5. Hide Folders in Windows 7
It's another very simple trick by which you can hide your personal files and folders without any software or password. Yes friends, you don't need to give any password, instead just need to follow some steps. Have a look on the following steps to hide folders in Windows 7.
Go to My Computer > Tools > Folder Options
Now, in the Folder Options, Click on the tab View and Check Don't show hidden files, folders and drives.
Now, go to that folder you want to hide and Right click on it. Select Properties.
In the properties panel, Check on Hidden. That's all!
I hope it will be proven helpful. If you find any problem in applying these steps, then no problem because I've previously published an an on how to hide folders in Windows 7. This guide provides you a step by step procedure with screenshots to learn how to hide folders in Windows 7.
6. Hibernate
Hibernate is a facility provided in most of Windows computer and can also be in others. Actually, the Hibernate feature is quite similar to well know Sleep (keeps the session in memory and puts the computer in low power state so that you can quickly resume working) feature.
But the Hibernate feature saves your session and turns of the computer and when you turn on the computer Windows restores your session.
So, if you want to turn off the computer for time period 1-2 hour, then you should Hibernate your PC instead make it Sleep. To Hibernate your computer, go to Start menu, move cursor to the arrow just after the Shutdown button and Click on Hibernate.
[su_note note_color="#ffffff" text_color="#000000″ radius="1″]READ IT: How to Hibernate Your Windows 8 PC[/su_note]
All these tricks are very useful and beneficial for all Windows 7 users. I hope you all will like them and surely apply on your Windows 7 computer. If you've any query, the feel free to ask through our comment box. I will really like if you share this article on your social networks.