You would have tried to open your favorite social networking site or sites like YouTube for watching videos in School, Office, or College but in many cases, these sites are blocked by the administration.
So, if you really wish to access any website that is blocked in your location or computer, then this article will help you with 6 effective ways to easily open blocked websites and access content.
In one of my previous articles, I discussed different ways to block certain websites on your phone or computer. And this time, I will guide you on how to open a blocked website on the internet. Here are 6 very helpful tricks to unblock a blocked website and access its content.
1. Open Blocked Website using VPNs
While you can access content by unblocking websites in many ways, using a VPN is the most reliable option among them. Why? The answer is simple. Other solutions work on the level of browsers like Google Chrome, Mozilla Firefox, and Internet Explorer.
However, a VPN works at the operating system level, which means that you can also use it for apps other than browsers on your device. After setting up a VPN, you can start reaping the benefits from the next moment.
As soon as you connect to a VPN, it reroutes the encrypted data from your device to a secure server. The latter acts as the pathway for both incoming and outgoing data.
When the data goes to the intended server through a VPN server, website trackers read the latter's virtual IP address instead of the actual one of the device. Due to the compatibility of the IP address, website trackers allow your device to access the content on the website, which is generally impossible through normal browsing.
2. Access Blocked Website using IP Address
Using the IP address of any website you can access any blocked website. Generally, the site URL is used to block the website and in such a manner you can use an IP address in place of the URL to open the blocked site.
All you need to find the IP address of a website you are trying to access. You can luckily do it using the command prompt on your Windows computer.
First of all, open the command prompt on your computer and enter ping www.example.com. Replace example.com with a blocked site URL.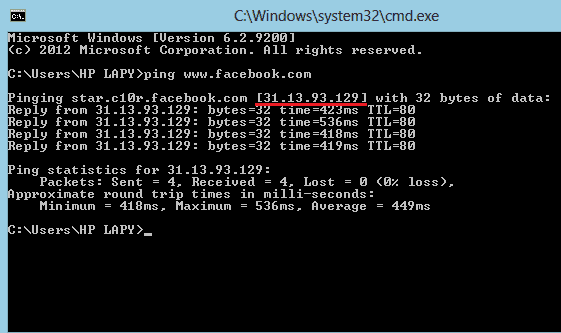 As soon as you will hit the enter button on your keyboard, the IP address for the desired website will be disclosed in front of you. Finally, enter this IP address in your browser's URL bar to access the blocked website.
This procedure will only work if the website is blocked on the computer by the administrator but its URL is not blocked in the command prompt. If the URL is also blocked in the command prompt, you'll have to try other methods.
3. Unblock a Website using TOR (The Onion Router)
TOR is a popular network service that is compatible with a wide range of browsers. It is equipped with a network tunneling feature which comes in handy in anonymous browsing.
Installing it is simple and easy. You can choose a version based on the operating system on your device. Regardless of the source from which you download the software program, ensure that its copy is compatible with the operating system on your device. Otherwise, the downloaded copy may not work.
Following the installation of the software program, it will install a plugin depending on the browser you use. Regardless of whether you use Mozilla Firefox or any other browser, it will install a plugin compatible with the browser. With this plugin, you can either enable or disable the traffic on a browser to browse anonymously for unblocking content on blocked websites.
4. Access a Blocked Website using Google Translate
Did you know that Google Adsense can also help you gain access to the websites that are blocked in your location or system? This might seem weird but this is very true. I personally used Google Translate not only to translate from one language to another but also to open blocked websites.
To access a blocked website using Google Translate, you just need to open Google Translate in your web browser, choose Websites option that is used to directly translate a whole website page. Now, select the desired language to translate, enter the website URL in the field, and hit Enter button.
This will open a cached version of your website on a URL created by Google Translate. This will help you browse even a blocked website. But, in order to access different pages of the blocked website, you will need to enter the exact URLs of those pages to access them.
5. Unblock a Website using a Internet Proxy
Proxies provide you with an internet connection to overcome the restrictions set by your internet service provider (ISP). Several proxy websites are available on the internet. You can access them through a browser.
After choosing a proxy, enter the URL of the blocked website to which you wish to gain access. Thereafter, with the help of its internet connection, you can visit the website and view its content.
However, check if your ISP blocks a proxy server before deciding to use it. If you choose such an option, you might need to find another one that your ISP does not block to access a blocked site.
6. DNS Server
You can think of a DNS server as a list that consists of several domain names. When you usually browse, the request to access a specific website goes to your ISP's DNS server. It communicates the IP address-related information to your computer.
ISPs generally remove the entries of websites they wish to block. This apart, they also have other ways to prevent users' access to block websites. For instance, they also have the option of redirecting a user to another site in response to their request to access a specific website.
So, how can you access the content of blocked websites through a DNS server? You can do so with the help of some third-party DNS services. The prominent names on the list include OpenDNS and Google. All you need is some tweaking to the DNS settings on your computer.
To use OpenDNS, use the following settings:
For Google DNS, you can switch to the following settings:
Save these settings on your computer and reboot it.
Final Thoughts
To sum up, you can use many effective ways to unblock blocked websites in your region. If you cannot view a website in your location for geo-restrictions, choosing one of the above methods will provide you with a solution.